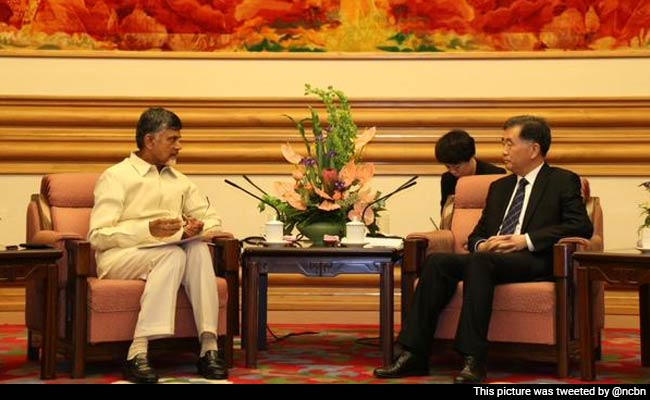 Andhra Pradesh Chief Minister N Chandrababu Naidu, who had led an official and business delegation to China to look for investments, today said that 29 agreements were signed during the six-day tour.
"29 MoUs were signed. 17 were Government-to-Business (G2B) MoUs and 12 were Business to-Business (B2B)," Mr Naidu told reporters in Hyderabad after his return from China.
"There is great enthusiasm among Chinese companies to invest in Andhra Pradesh and India. We asked them to explore the investment opportunities. We have signed some MoUs. They will come here to discuss with government as well as private entrepreneurs. They will visit the field and wherever they are feasible they will (proceed)," he said.
We are working with them in the construction of the new capital (of Andhra Pradesh), and also infrastructure and manufacturing, Mr Naidu added.
Praising China for its rapid growth, the chief minister said, "China is moving very fast with regard to industries, manufacturing and also mega projects like speed trains, super highways, mega townships, ports...they are going on mega scale. We have to learn on how to implement (this) in India.
"They have reached a saturation point. They want investment in other countries also. In that direction India offers them an opportunity," he said.
The chief minister, who visited Beijing, Chengdu and Shanghai, during the tour, said, "I met senior leadership - Vice Premier, Governors and Mayors in China. The interaction was very fruitful...There was discussion on industry to industry also."
Mr Naidu added that he would meet Prime Minister Narendra Modi and apprise him of his China trip.