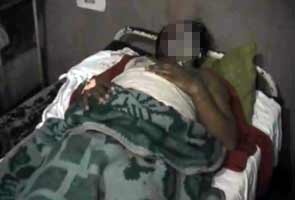 Amritsar:
A young man has been admitted to an Amritsar hospital with serious burn injuries on his face and a horrific story on how he got them.
Deepak Kumar, a migrant labourer, who works in Amritsar as a daily wage worker, has told the police that he was on his way back home last night when three men in police uniform stopped him and asked him for money. He says when he refused, they forced his head face down over a big, lit tandoor or furnace used to bake meats and bread, and held it there for a couple of minutes.
They then also robbed him of all the money he had on his person, and ran away, Mr Kumar told the police. Some locals who found him, rushed him to hospital.
The police have registered a case against unknown men. They are trying to find out whether the men who attacked Deepak Kumar were miscreants dressed as policemen or real cops.
"We are investigating whether the labourer fell down accidently or was he pushed by a policeman. We are also investigating whether the cop was in uniform or in civil dress," said Ram Singh, Commissioner of Police, Amritsar.
There have been several cases of alleged police high handedness and even brutality in recent days. Last week, a 22-year-old girl and her father were allegedly thrashed by policemen when they sought action against some persons, who teased the girl and passed vulgar comments in full public view. On March 6, policemen used water cannons and resorted to lathicharge against a group of lawyers protesting outside the Punjab state assembly in Chandigarh.