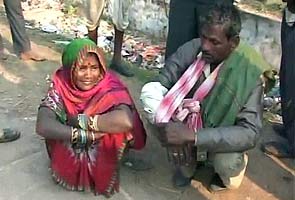 Allahabad:
Wrapped in a worn-out shawl, sitting on the ground, eight-year-old Muskaan's mother is inconsolable. Chain Bai had brought her only daughter on a pilgrimage to the Mahakumbh mela in Allahabad, she will go back home to Jabalpur without her.
Muskaan was crushed in a stampede at the Allahabad Railway station yesterday, the youngest of 36 victims. She was alive last night, frail, as she lay injured, her head on her mother's lap, awaiting medical attention for over two hours, her father Bedi Lal says. Chain Bai says her child would have survived had a doctor reached her on time.
"My daughter had bought jewellery from the kumbh mela. She told me she would wear it later and had stored it safely in her bag. She will never wear it now," she says, weeping.
There was only one doctor available at the station after the stampede. When NDTV's crew reached the spot where Muskaan lay on the railway platform, some railways officials had only just arrived and begun to make attempts to help the child.
Even though the Railway hospital is barely 500 metres from the station, critically injured people like Muskaan were not shifted to hospital for hours.
The administration had clearly not made adequate arrangements to handle the three crore people who came into Allahabad over the weekend. Sunday was Mauni Amavasya, considered the most auspicious day of the Maha Kumbh mela and there were lakhs of people at the railway station in the evening when the stampede happened.