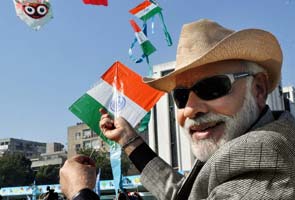 Ahmedabad:
Gujarat Chief Minister Narendra Modi today participated in the 21st International Kite Festival which is currently on at the Sabarmati riverfront in Ahmedabad.
He said plans are afoot to increase the turnover of the kite industry in the state to Rs 700 crore from the present Rs 400 crore in next five years.
For this purpose, Modi sought help from students of design institutes like National Institute of Design (NID) and National Institute of Fashion Technology (NIFT), for designing new type of kites.
"Kite Festival is connected with the poor people as it is they who make the kites which we fly," Modi said after International Kite festival was inaugurated by Gujarat Governor Dr Kamla.
"There was a time the kite making business was limited to Rs 30-35 crore annually. But since we started organising the Kite Festival, business of this industry has increased to over Rs 400 crore," he claimed.
"And in the next five years we are planning to make the kite industry worth over Rs 700 crore," Modi said.
"I would like to request the students of design institutes like NID and NIFT, to come forward and research on new kind of kites. People of Gujarat will make kites designed by them and sell it in the international market," he added.
Modi further announced that next year he wanted to hold competitions for best slogan, songs and films on kites.
Gujarat Governor Dr Kamla, while inaugurating the Kite Festival said that kites were a symbol of positive energy. She further said that seeing hundreds of kites flying in the open sky, in itself was a unique experience.
More than 5,000 students of the Ahmedabad Municipal Corporation (AMC) run schools performed yoga routine, in sync with each other.
Over 100 kite flying enthusiasts from 37 different countries are participating in the Kite Festival. Besides this 150 participants for across the country are also showing their kite flying skills during the festival.
The festival will also be held in Dhordo village in Kutch on Wednesday where enthusiasts would fly kites in the white desert, as part of the desert festival in progress there.
Similarly, people would fly kites on the Mandvi beach in Kutch on January 13.
Get Breaking news, live coverage, and Latest News from India and around the world on NDTV.com. Catch all the Live TV action on NDTV 24x7 and NDTV India. Like us on Facebook or follow us on Twitter and Instagram for latest news and live news updates.