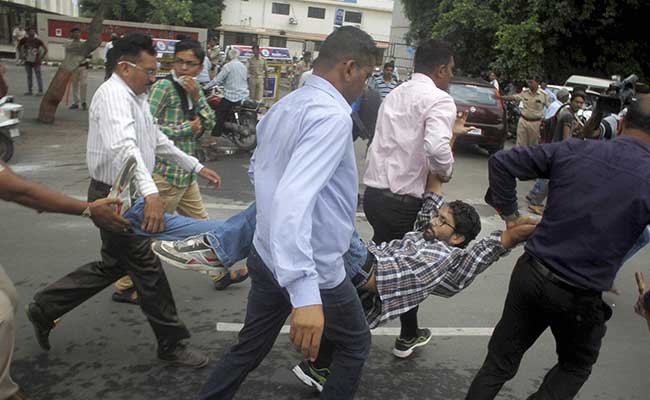 Ahmedabad:
Police on Monday detained the Dalit leader Jignesh Mevani and 125 others for trying to block a road near the Collector's office on the issue of non-allotment of land to Dalits in Dholka tehsil of the district.
Mr Mevani and some 100 others were first detained when they reached the Collector's office near Subhash Bridge in Ahmedabad.
Later another 25 agitators were detained, police said. "We released them later," said inspector VB Patel of Ranip police station.
Mr Mevani has been leading the Dalit communtiy's agitation against the BJP Government in Gujarat following the Una Dalit flogging incident in July.
Police had detained Mr Mevani ahead of the Prime Minister Narendra Modi's visit to the state last week too.
At a rally in Dholka on Sunday, Mr Mevani claimed that some 300 Dalits from the tehsil who were allotted land by the government many years ago under the Agricultural Land Ceiling Act were still to get the actual possession.
"As announced by Mevani in Dholka, he and other Dalit activists today staged a demonstration here to draw the government's attention to the issue," said Mr Mevani's close aide Subodh Parmar, who was also detained by the police.