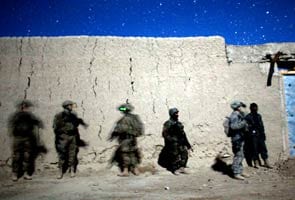 Washington:
U.S. and allied military planners are drawing up the broad outlines of a force that would remain in Afghanistan following the handover to Afghan security after 2014, including a small counterterrorism force with an eye toward al-Qaida, senior officials say.
Under the emerging plan, the U.S. counterterrorism force might number less than 1,000, one military official said. In a parallel effort, NATO forces would advise Afghan forces at major regional military and police headquarters but most likely have a minimal battlefield role, with the exception of some special operations advisers.
Final decisions on the size of the U.S. and NATO presence after 2014 and its precise configuration have not been made by the United States or its allies. But one option calls for about 10,000 U.S. and several thousand non-American NATO troops.
The planning for a post-2014 mission has emerged as an early test for President Barack Obama in his new term as he tries to flesh out the strategy for transferring the responsibility for security to the Afghans. But it is not the only challenge: After the White House decides what sort of military presence to propose to the Afghan government for after 2014, it must turn to the question of how quickly to reduce its troop force before then.
As one of his last acts as senior U.S. commander in Afghanistan, Gen. John R. Allen is expected to submit a formal recommendation for how quickly to begin withdrawing the United States' 66,000 troops. Two U.S. officials who are involved in Afghan issues said Allen wants to keep a significant military capability through the fighting season ending in fall 2013, which could translate to a force of more than 60,000 troops until the end of that period.
Afghan forces are to assume the lead role for the war next year, and a military officer said that such troop level would enable the United States to better support them, maintain the initiative and control critical terrain.
But such an approach may entail a heavier military involvement than the White House, which appears weary of the war, might like.
The White House is expected to ask Allen to submit a range of options for drawing down forces next year, including some involving substantial reductions in troop levels.
"The White House has not yet asked Gen. Allen for his assessment, nor have we begun considering any specific recommendations for troop numbers in 2013 and 2014," said George Little, the Pentagon spokesman. "What is true is that in June 2011 the president made clear that our forces would continue to come home at a steady pace as we transition to an Afghan lead for security. That it still the case."
The issue is already a politically contentious one. Some leading Democratic lawmakers have signaled that they would like to see steady troop reductions next year while Republicans have argued that speedy withdrawals would jeopardize hard-won gains.
There are also questions about Allen's future: His emails to a woman linked to the FBI inquiry that disclosed David H. Petraeus' affair are being investigated by the Pentagon inspector general.
But Allen has resumed his duties in Kabul, and Obama has said he thinks highly of his military performance. The Marine general who has been nominated to replace him, Joseph F. Dunford Jr., is not scheduled to take up the post until early February and recently told Congress that he had not been part of the planning process.
The planning for a post-2014 force is the Obama administration's first order of business on Afghanistan for several reasons. The United States has opened talks with the Afghans on a security agreement that would authorize a U.S. troop presence in Afghanistan after 2014. So U.S. officials need to define what role U.S. and NATO forces might play then.
In addition, NATO's political arm has authorized the alliance's military planners to develop a concept for how to carry out the post-2014 mission, which is to be approved by the alliance's defense ministers early next year.
The planning for after 2014 turns on troubling questions on how to guard against the expansion of terrorist groups and advise an Afghan military that has little airpower, poor logistics, and difficulties evacuating and treating its own wounded. But it will also depend heavily on the willingness of allied nations to contribute troops and funds.
One question is the scope of the mission for the U.S. counterterrorism force. The targets of the counterterrorism force would include al-Qaida and possibly Lashkar-e-Taiba, the Pakistan-based militant group linked to al-Qaida that was responsible for the 2008 Mumbai attacks, and which is found in small numbers in northeast Afghanistan. The Islamic Movement of Uzbekistan might also make the list.
But it was unclear whether the Pakistani-based Haqqani network, which U.S. commandos have focused on for the past two years, would also be a potential target of the U.S. force. Officials say that does not appear to be contemplated by the White House.
An important question for the NATO mission after 2014 is what level of the Afghan military hierarchy they would advise. It is generally expected that they would advise seven regional Afghan army corps and several regional Afghan police headquarters. The arrangement would largely insulate the NATO advisers from the battlefield, though officials said advisers might accompany Afghan brigades on major operations.
It is unlikely that NATO officers would advise Afghan battalions on the battlefield. That would require many more advisers than the alliance is likely to muster and would entail more risk that most nations seem prepared to assume, though some U.S. experts believe it would make the Afghan military more effective. Still, NATO special operations advisers would be likely to accompany Afghan army commandos and police SWAT-type units on the battlefield, under the emerging plan.
A major challenge is that Afghanistan will not have an effective air force before 2017, if then. U.S. officials said that NATO airpower would remain in Afghanistan after 2014 but will likely only be used on behalf of NATO and U.S. troops and perhaps Afghan units that are accompanied by NATO advisers. NATO forces rely heavily on airpower for airstrikes, supply and medical evacuation since Afghanistan's roads are poor and often seeded with bombs.
To compensate for Afghanistan's limited airpower, U.S. officials are working on a number of fixes, including providing Afghan forces with armoured vehicles equipped with mortars and assault guns. The United States is also looking into expanding the purchase of turboprop planes for the Afghans and is trying to help Afghan pilots learn to fly at night.
Equally troubling is the problem of medical evacuations. After 2014, the Afghans will almost certainly need to rely in many cases on a system that depends more on ground transportation than helicopters. The Americans want to help them develop more field hospitals.
Senior Afghan military officials are well aware of their deficiencies and are counting on U.S. support.
"Until 2017, we will have American pilots and engineers flying with us," said Gen. Abdul Wahab Wardak, the Afghan air force commander. "They will start the handover of the air force at the beginning of 2017, and at the end of the year it will be complete."
Wardak also noted that the Afghan military needed NATO help to provide "close air support and medevac." And he ticked off a long list of equipment he hoped to receive from the United States, including transport airplanes and parts.
Still, in the broader sense, a senior U.S. military officer acknowledged that the United States faced formidable difficulties in getting the Afghans ready to operate on their own.
The challenge, the officer said, is "building the back end" of the army and the police: "We've been focused on their fighting ability. Now it's the time we need to focus on getting them the ability to get what they need so they can fight."
© 2012, The New York Times News Service