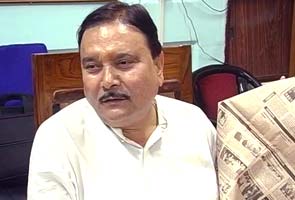 Kolkata:
West Bengal government is contemplating unification of all five transport corporations for administrative convenience and better service to the people, state Transport Minister Madan Mitra said in Kolkata on Wednesday.
"Trade Union bodies are also creating pressure supporting this move," he said adding the final decision would be taken by the Group of Ministers (GoM).
To a question, Mitra said in October the transport department had earned Rs 100 crore as revenue against an average of about Rs 58 crore a month.
Admitting delay in the payment of salary by some transport corporations, he said it was because of the different administrative systems. "That's why we are intiating the move for unification of all these transport corporations."
In this context he said the suicide by an employee of Calcutta Tranways Corporation on November 22 was not due to delay in salary but due to other reasons.
Mitra, who visited the employee's house and met the bereaved family yesterday, said the man's wife had told him that her husband had received the September salary on October 18. "I assured her that all the employees would get their October salary tomorrow."
Replying to questions, he said there is no problem in the state's transport sector right now. "Whatever is being said by some sector is entirely artificial."
To a question, the minister said a drive against illegal public transport vehicles would begin on Thursday.
The government was also thinking about bringing the autorickshaws under a fare structure, he added.