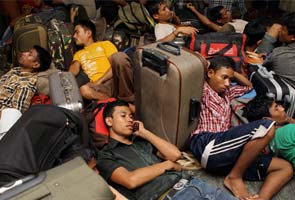 Bangalore:
Morphed images circulated online that fuelled panic and fear among people from the North-East originated in Pakistan, Home Secretary RK Singh said on Saturday evening. The government is expected to raise the issue with Pakistan soon.
"We have got a hold on the wrong messages, false images... Photos of people who had died in cyclones etc. were circulated as victims of violence in Myanmar and Bodoland... We want people to know that bulk of this was done from Pakistan. We will raise this issue with Pakistan. I am certain they will decline it but our technical team is certain," he said, while addressing a press conference in New Delhi.
"A total of 76 websites were identified where morphed images were uploaded and bulk of these were uploaded in Pakistan," Mr Singh told PTI. "He said these websites have been blocked.
Seven people have been identified out of which three have been arrested for spreading rumours that spread quickly through the north-eastern communities of cities like Hyderabad and Bangalore, the Home Secretary added.
Starting Wednesday, the SMS-es threatening students and professionals from the North-East convinced thousands to board special trains from Bangalore and Pune, both cosmopolitan cities, to Guwahati.
The Centre, on Friday, banned bulk SMs-es and MMS-es, so the same text message or video cannot be sent by phone to more than five recipients.
The governments of Karnataka, Assam and the Centre have been urging people not to be swayed by rumours or online videos that are inflammatory. The government has ordered websites and social networks to identify incendiary posts and take them down.
The text messages and online videos, designed to provoke tension and often urging violence, link themselves to recent violence in Myanmar and Assam, where 80 people have died in ethnic violence in the last month.
In Assam, Chief Minister Tarun Gogoi is trying his best to convince those returning to the state from Bangalore, Hyderabad and Pune that they should go back to the cities they work in as soon as possible.
"I am telling everyone who is coming back to return. The government of Karnataka has assured full protection. I want all of them to go back as soon as possible. We will arrange for special trains from here to southern states whenever they want," he said.
But this may offer little assurance to the thousands of North-East citizens who arrived in Guwahati this morning after a long journey from cities like Hyderabad and Bangalore.
"I was in Bangalore for nine months. I won't go back, even if I don't get any work in Assam," says Albert, one of the boys. "We have the right to stay anywhere in the country. What is happening is not right," says another.
Most of the boys who've returned are from remote parts of Assam - Lakhimpur, Majuli, Sibsagar. For many, the lack of employment opportunities in their home state means staying back is not an option. "When it calms down, we will have to go back. Don't know how long we will stay here because we have to think of the future," says Abhijit.
(
With PTI inputs
)