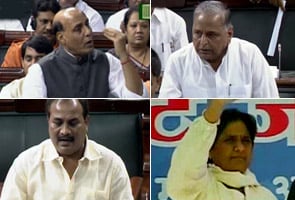 New Delhi:
Members in the Lok Sabha today condemned the "forcible" acquisition of land in Uttar Pradesh and firing on protesting farmers prompting the government to state that a comprehensive bill in this regard would be brought in Parliament at the earliest.
BJP and SP members trooped into the well as soon as the House convened and resorted to sloganeering on the alleged firing on farmers in Aligarh and Mathura. Speaker Meira Kumar was forced to allow an impromptu discussion on the issue.
Members across party lines, barring BSP, criticised the policy of acquiring land forcibly from farmers at throwaway prices for building the Yamuna Expressway and a private township and demanded action against officers who ordered the firing on the protestors.
At the end of 55-minute discussion, Finance Minister Pranab Mukherjee assured the House that a "comprehensive" bill on land acquisition and rehabilitation was being considered by a Group of Ministers headed by Agriculture Minister Sharad Pawar.
"We are considering to bring it (to Parliament) at the earliest... we have to ensure that interests of our farmers are not jeopardised. They play an important role in ensuring food security," he said.
Mukherjee said Home Minister P Chidambaram was in touch with the Uttar Pradesh government to ascertain facts about Saturday's firing incident.
Samajwadi Party chief Mulayam Singh Yadav wanted to know why a report of the firing incident was not filed by the state police.
Former BJP President Rajnath Singh claimed that farmers were coerced by state government officials into accepting an agreement on land acquisition.
Farmers in the region have been agitating for the past few weeks over acquisition of land for building the Noida-Agra Yamuna Expressway and a township being developed by a private infrastructure company.
He wanted a new law on land acquisition to be enacted by the government. Singh also sought to know why the bill in this regard was allowed to lapse in the previous Lok Sabha.
Rajnath Singh also wanted the new Bill to include a provision preventing acquisition of fertile land.
Dara Singh Chauhan (BSP) congratulated farmers of Aligarh and Mathura for "hooting away" the BJP, SP and RLD leaders who had gone to "express solidarity" with the agitating farmers.
He said a rate of Rs 570 per sq mtr was agreed upon for acquiring the land of farmers for the project which was 20 per cent more than the previously agreed rates.
Chauhan said Rs 10 lakh have been paid to next of kin of every person killed in the firing incident and Rs two lakh to each of the injured.