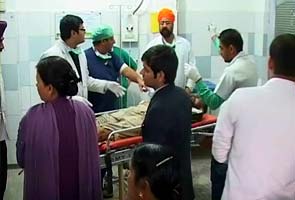 Amritsar:
Shiromani Akali Dal leader Ranjit Singh Rana and one of his associates were arrested today for allegedly shooting dead a Punjab police officer, who objected to them harassing his 23-year-old daughter.
Mr Rana, general secretary of the Akali Dal's Amritsar district unit, is alleged to have shot Assistant Sub-Inspector Ravinderpal Singh, 47, in full public view in Amritsar's Chehertha locality on Wednesday. The officer was rushed to hospital with heavy bleeding and declared dead.
Amritsar Police Commissioner Ram Singh said Mr Rana and Gurveer Singh were arrested from Rajoke village in Tarn Taran district. Three weapons - a .12 bore double barrel gun, a rifle and pistol - were seized.
As outrage over the murder grew, Mr Rana was expelled by his party this morning. A case was registered against him under various sections of the Indian Penal Code and the Arms Act.
Ravinderpal Singh's daughter had reportedly complained to him that Mr Rana and his associates frequently chased and harassed her. They would stop her on the road and pass lewd comments.
When the officer, along with his daughter, went to Mr Rana's house to warn him, the politician allegedly shot him in the legs. On the way to hospital, Mr Singh was waylaid by Mr Rana, who allegedly shot him in the chest with a rifle this time.
A police station was close by, but nobody turned up to help Mr Singh. The station house officer has now been sacked.
Mr Singh's wife said she was proud her husband. "I don't know what happened between them, but what my husband did was right, and I'm really proud of him," she said.
The murder sparked off widespread anger in Amritsar. "These men came and kept firing, but there were no policemen around. Such hooliganism has to stop," said a resident.
Another said: "If anybody can come and shoot a policeman, how can people be safe?"
Sumedh Saini, Director General of Police, Punjab said the incident was being viewed seriously. "The job of the police is to prevent such incidents, but offences do take place. Once it does, our job is to bring the culprits to book and take deterrent steps," he said.
The Supreme Court recently took a zero-tolerance stance on eve-teasing and instructed all states to take measures to protect women, such as deploying women police officers in plainclothes, putting up closed-circuit cameras and setting up helplines.
"Eve-teasing today has become a pernicious, horrid and disgusting practice. More and more girls and women go to educational institutions, workplaces etc and their protection is of extreme importance. The experiences of women and girls in overcrowded buses, metros, trains etc are horrendous and a painful ordeal," the court said.

(With inputs from agencies)