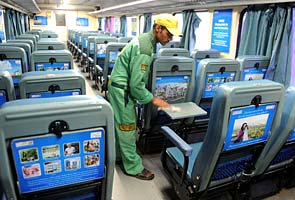 Agra:
The long-awaited Agra-Jaipur Shatabdi Express is all set to begin its inaugural run between the two major tourist destinations on November 30, an official said on Friday.
It will cover the over 230-kilometres distance in little more than three hours.
Railway sources said the new train will be flagged off from Jaipur on November 30. Booking for seats has begun.
The Shatabdi Express from Jaipur will leave every day at 7.30 am and reach Agra by 10.30 am. It will leave the Taj city at 4.20 pm and reach Jaipur at 7.50 pm. The train will be taking half an hour more on its return journey for Jaipur, according to the time-table made available by the railways.
It will stop only at Bharatpur for two minutes.
Tourism industries in Agra have welcomed the new Shatabdi Express which will reduce travelling time and provide a comfortable journey to visitors.