Her daring escape, authorities say, took more than two years of planning. Just before sunrise, the 17-year-old climbed out of a window - and out of the home where at least three of her 12 brothers and sisters were chained to their beds as punishment, where there were toys they weren't allowed to use and food they weren't allowed to eat.
That day, on Jan. 14, she took a deactivated cellphone that
could still connect to 911
, slipped out the window, and dialed, summoning Southern California authorities to what would eventually be dubbed the "House of Horrors."
"I wanted to call ya'll so ya'll can help my sisters," the teen told the dispatcher, her voice childlike and high-pitched, according to the Associated Press.
On Thursday, a Riverside County judge decided that her parents, David Turpin, 56, and Louise Turpin, 50, will go to trial for what prosecutors say was years-long abuse inflicted on their children, ages 2 to 29. Riverside County Superior Court Judge Bernard Schwartz made the decision after hearing the audio recording of the teen's disturbing 911 call, as well as testimony from investigators and arguments from prosecutors and defense attorneys.
"Clearly, the infliction of great bodily injury occurred to each one of these children," Schwartz said, according to ABC 7.
The Turpins are each facing 50 charges
, including several counts of torture, false imprisonment and child abuse. Defense attorneys tried unsuccessfully to convince Schwartz to dismiss many of the charges, but the judge dropped only one: the child endangerment charge involving the couple's 2-year-old child, citing lack of evidence that the toddler was abused, according to media reports.
The siblings were frequently beaten, sometimes choked, prosecutors say. They were often tied up, at first with ropes and later with chains, for up to months at a time. They were not allowed to bathe more than once a year, and if they washed their hands above their wrist, they were chained for "playing with water," Riverside County District Attorney Mike Hestrin told reporters after the Turpins were arrested in January.
More disturbing details about what investigators think happened inside
the family's home
were made public this week, as prosecutors called detectives to the stand to testify about the alleged abuse. John Hall, a spokesman for the district attorney's office, said six law enforcement officers testified Wednesday. He said the agency will not release the audio of the 911 call, citing the pending criminal case.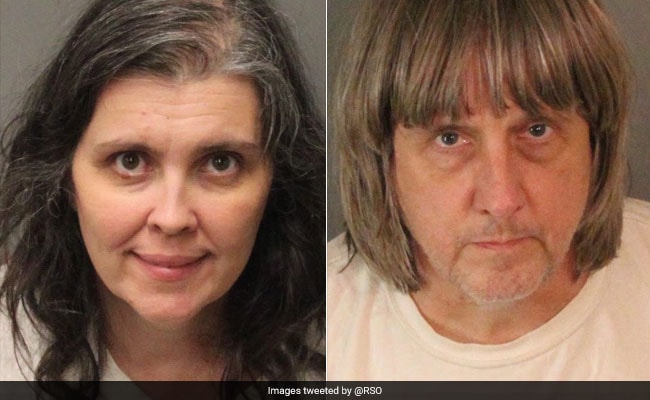 Riverside County Sheriff's Detective Thomas Salisbury testified that the couple's 22-year-old son, who at one point managed to untie himself, "had been restrained with chains and ropes off and on for 6 1/2 years," according to the Los Angeles Times.
Riverside County Sheriff's Deputy Manual Campos testified that the siblings called their parents "Mother" and "Father" to resemble "the Bible days," the Times reported. The 17-year-old also told investigators that David Turpin, who is charged with committing lewd acts on a child, had tried to sexually abuse her. When she was 12, her father pulled her pants down and placed her on his lap. He also tried to kiss her on the mouth several times.
The teen said that her mother choked her after she was caught watching a Justin Bieber video on a cellphone, the Press-Enterprise reported.
"Do you want to die?" Louise Turpin asked the girl as she choked her, according to Campos's testimony.
"Yes, you do. You want to die. You want to die and go to hell," Louise Turpin told her daughter, Campos said, recounting the teen's statements.
In the 911 call, the 17-year-old said she doesn't know much about her mother. "She doesn't take care of us. . . . They only chain us up if we do something wrong. My sisters, they wake up crying," she said, CBS Los Angeles reported.
Defense attorneys for David Turpin argued in court Thursday that he was mostly gone during much of the abuse. The judge agreed, but he said that although Louise Turpin inflicted most of the injuries, David Turpin did nothing to stop her.
Defense attorneys for the Turpins did not respond to requests for comment Thursday.
The abuse began several years ago, when the family was living in the Fort Worth area, prosecutors say. In 2010, they moved to Murrieta, Calififornia, about 80 miles from Los Angeles, where authorities say the abuse got worse. They moved to nearby Perris, Califorinia, a few years later.
Three of the siblings were chained to their beds when police arrived at the family's Perris home in January. The Turpins were unchaining two of them, an 11-year-old and a 14-year-old, as police stood at the door, Hestrin, the district attorney, told reporters. Another sibling, a 22-year-old, was still chained to a bed when police entered the home.
"When they were not chained, they were locked in different rooms and fed very little on schedule," Hestrin said. "They were not allowed to have toys, although there were many toys found in the house that were in their original package and had never been opened."
The parents bought food, such as apple pies and pumpkin pies, but the children could only look at them, Hestrin said. The food would sit on the counter and rot.
The siblings
also were supposedly home-schooled and were kept away from the outside world. They didn't know what a police officer was, Hestrin said. When the 17-year-old was asked whether there were medications and pills in the home, she didn't know what they were.
"About the only thing the children were allowed to do in their rooms, or chained up, was to write in journals," Hestrin said. "We now have recovered those journals, hundreds of them."
All of the siblings were suffering from severe malnutrition associated with muscle wasting, Hestrin said. The 17-year-old looked like a 10-year-old. One of the other children, a 12-year-old, weighed the same as an average 7-year-old. The oldest sibling, a 29-year-old woman, was 82 pounds.
The siblings have not seen a doctor in years, Hestrin said. None has ever seen a dentist.
The Turpins are each being held on a $12 million bail. They're facing 94 years to life imprisonment if convicted of all charges.
(Except for the headline, this story has not been edited by NDTV staff and is published from a syndicated feed.)