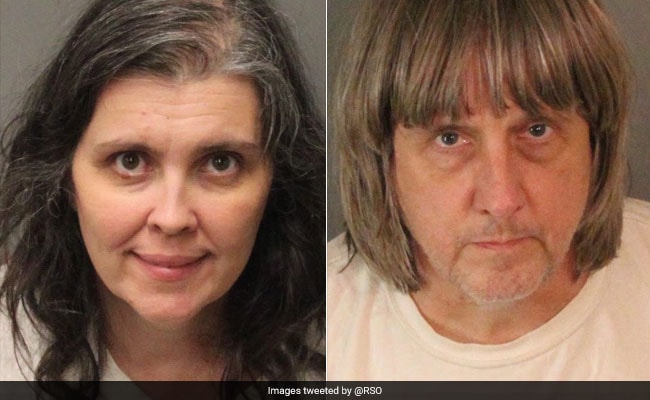 Perris, California:
Investigators on Wednesday conducted an exhaustive search of the foul-smelling, filthy tract home east of Los Angeles where a California couple are accused of keeping captive and nearly starving their 13 minor and adult children, police said.
David Turpin, 57, and Louise Turpin, 49, were set to go before a judge in Riverside County on Thursday on charges of torture and child endangerment in the case, which came to light over the weekend after their 17-year-old daughter escaped through a window and alerted police.
"We have investigators on scene, combing through everything they can find for additional evidence," Riverside Sheriff's Deputy Mike Vasquez said by telephone. "They're trying to gather more information that may assist them in providing a full description of what was going on there.
"The whole house is a crime scene," he added.
Officers raided the house in the small city of Perris, about 70 miles (113 km) east of Los Angeles, on Sunday after the 17-year-old, whose name was not released, called the 911 emergency number on a cellphone. She was so small and emaciated, officers at first thought she was about 10 years old.
On Wednesday afternoon, several investigators, some wearing black gloves, went in and out of the house, frequently carrying boxes and bags of material they placed in waiting vehicles.
Inside the garage, floor-to-ceiling shelves that appeared to be stacked with DVDs could be seen.
From the outside, the tan house did not look particularly different from the other one-and two-story houses in the community. But neighbours said the thick sod of the front lawn had been put down by the children last fall, working at night under TV-style lights as their mother looked on.
The couple is accused of keeping their 13 offspring, ages 2 to 29, in filthy and fetid conditions, chaining some to their beds and giving them so little food the adult children were initially mistaken for minors, police said. They are all believed to be the couple's biological children, Vasquez said.
On Wednesday, police and prosecutors prepared for the arraignment of each parent on nine counts of torture and 10 counts of child endangerment.
Neighbours and family members have offered little insight into the couple's motivations or actions. Experts have said it may have been easier for the parents to shield their children from scrutiny because they were home-schooled.
Reached by telephone Wednesday at the West Virginia home of David Turpin's parents, his mother, Betty Turpin, said she was busy preparing paperwork and entering information into a computer to help her son. She said the family had engaged an attorney, who advised them not to speak about the case.
But Louise Turpin's sister, Elizabeth Jane Flores, told ABC News on Wednesday that in hindsight there were concerning signs, including a refusal to allow family visits or talks with the children on Skype.
Neighbour Kimberly Milligan, 50, said Wednesday that over the three years she had lived across the street from the Turpins she had seen a few of the older children, looking pale and always accompanied by a parent, but never the entire group.
"It was something that always nagged at me," she said. "Why don't I see those kids?"
© Thomson Reuters 2018
(This story has not been edited by NDTV staff and is auto-generated from a syndicated feed.)