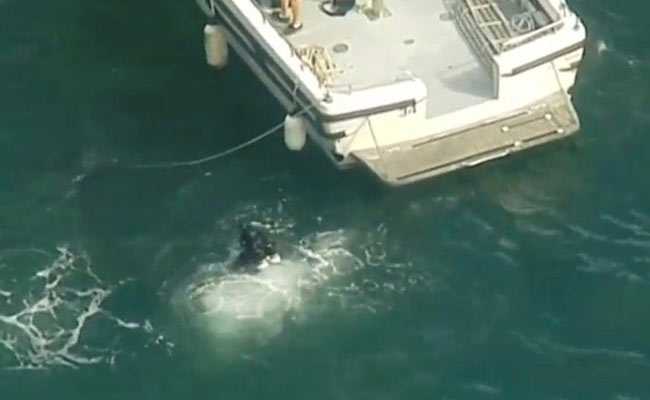 Melbourne:
The CEO of Compass Group Plc, the world's biggest catering firm, and four of his close family members were among the six people who died when the seaplane they were travelling in crashed into Sydney river on New Year's Eve.
Richard Cousins, 58, chief of the British-based catering and food services giant, died alongside Emma Bowden, 48, Heather Bowden, 11, Edward Cousins, 23, and William Cousins, 25, according to Detective Superintendent Mark Hutchings from the New South Wales Police.
The pilot, Gareth Morgan, 44, also died in the crash.
Australian media reports identified the victims as the CEO's two sons, his fiancee and her daughter.
Hutchings said that police had already been in contact with UK authorities.
Compass Chairman Paul Walsh said in a statement: "The thoughts of everyone at Compass are with Richard's family and friends, and we extend our deepest sympathies to them."
"Richard was known and respected for his great humanity and a no-nonsense style that transformed Compass into one of Britain's leading companies," he added on Monday.
Cousins, who led Compass over the past 11 years, was due to step down in March. It followed his decision to quit his role of senior independent director of supermarket giant Tesco.
He has been widely credited with turning the company's business around and making Compass into one of the Financial Times Stock Exchange's best-performing firms.
Cousins had also been named as one of the world's best-performing CEOs by Harvard Business Review.
Police are working with the Australian Transport Safety Bureau to recover the wreckage of the plane, which is submerged in 13 metres of water near Cowan, north of Sydney.
A probe into the cause of the crash has begun, with a preliminary report expected within 30 days. Authorities have warned it may take up to a year to find out what happened.
The seaplane was part of the Sydney Seaplanes business that has operated since 2005 with no previous record of mishap. Seaplane flights have been cancelled until further notice.
(Reporting by Alana Schetzer; Editing by Kim Coghill and Himani Sarkar)
© Thomson Reuters 2018
(Except for the headline, this story has not been edited by NDTV staff and is published from a syndicated feed.)