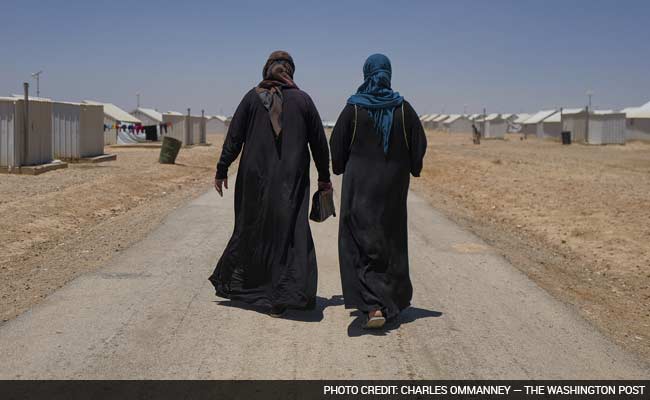 Somewhere in Syrian territory controlled by Islamic State militants, a jihadist from the Netherlands posted a cheerful photo on Twitter, showing off an Oreo cheesecake that she had made.
It was a fizzy propaganda moment that she shared with others who might be thinking about traveling to Syria to join the cause. It also had a very Islamic State twist: The cheesecake was photographed next to a grenade.
About 200 miles to the south, in an oven-hot refugee camp in Jordan, Rudeina, 17, said her life under the Islamic State in northern Syria, which she fled in April, was miserable. She said she stayed inside her house near the city of Raqqa, the Islamic State capital, for more than a year, terrified that if she went outside she would be abducted and forced to marry a foreign fighter.
"They cut the Internet, but we didn't even want it anymore," she said. "If we looked at the Internet, we would see people living in the outside world. That made us sad. Seeing the outside world was just another sorrow."
In Islamic State propaganda, life for women in the self-declared caliphate is filled with love, children and the joys of domestic life, such as an Oreo dessert. But the reality is often far more harsh for women who have moved there from the Arab world, Europe or the United States, according to specialists who monitor Islamic State social media postings.
Those women, usually drawn by romantic notions of supporting revolutionaries and living in a state that exalts their religion, can quickly find themselves part of an institutionalized, near-assembly-line system to provide fighters with wives, sex and children. And when their husbands are killed, they are expected to celebrate their "martyrdom" and then quickly marry other fighters.
The situation is even worse for millions of women in Syria and Iraq who have found their cities and towns overtaken by the Islamic State, according to interviews, conducted via Skype and in person, with more than three dozen people who live in militant-held areas or have recently fled to Turkey, Jordan and government-controlled areas of Iraq.
Their accounts are impossible to verify because the Islamic State does not permit journalists and other independent observers to enter its territory - and it has beheaded several of them. But the accounts of the people interviewed were remarkably consistent and are similar to statements given to aid organizations and human rights workers.
"Our biggest fear was that we would be put in the women's prison," Rudeina said, sitting in the metal hut where she now lives in the Azraq refugee camp in northeastern Jordan, along with 20,000 other Syrians. Like many of those interviewed, she declined to give her last name for security reasons.
She said the militants would use any pretext to detain women: "They use the women prisoners for wives for the foreign fighters. If you go to prison, you are given away to God- only-knows-who."
Her mother, Nabiha, 42, said that happened to a neighbor's daughter, who had been jailed because her husband was a soldier in the Syrian army.
"They told her, 'Either you marry a fighter, or we will cut off your head and hang it in the square,' " Nabiha said. "So she married the fighter, and we never heard of her again."
_ _ _
In the Islamic State's ideology, a woman's place is in the home, tending to her husband and producing children.
"Her creator has ruled that there was no responsibility greater for her than that of being a wife to her husband," according to "Women of the Islamic State," a manifesto issued this year by the al-Khanssaa Brigade, a women's group inside the Islamic State caliphate.
The manifesto, translated into English by Charlie Winter, senior researcher at the London-based Quilliam Foundation, offers one of the most comprehensive windows to date into the treatment of women by the Islamic State.
It says that women should leave their homes only in specific circumstances, including going to study religion or to work in situations where women are strictly segregated. The manifesto rails against Western values.
Women who choose to join the Islamic State, whether they are foreigners or locals who believe in the militants' ideology, seem to accept or even relish their new role. Some form loving marriages and embrace a system that rejects Western ideals of fashion and beauty.
But many local women find the restrictions extreme, backward and terrifying, according to those interviewed.
The rules are especially jarring for residents of urban areas such as Raqqa and the Iraqi city of Mosul, where women have always dressed modestly but where many used to simply drape a scarf over their hair and wear jeans and sandals. These days, they must wear full-face veils and robes in public, and they can't leave their homes without a male relative.
Amina Mustafa Humaidi, 40, who fled Raqqa in May, said she used to keep her 9-year-old daughter at home because she feared the militants.
"We heard many stories of girls kidnapped off the streets by the foreign fighters," she said, sitting in her hut at the Azraq camp. "When they first arrived, they made an announcement that they were going to take a girl from every house and marry them to foreign fighters. It never happened. I think they just said that to terrify us."
But Humaidi's fear for her young daughter is justified: The "Women of the Islamic State" manifesto says girls can be married at age 9.
The Islamic State also has systematically made sex slaves out of thousands of women and girls from the Yazidi minority in Iraq, according to groups including Human Rights Watch and Amnesty International. The militants themselves, in the October 2014 issue of their publication Dabiq, said that female Yazidis had been given to fighters essentially as "spoils of war."
An official Islamic State document published late last year set forth guidelines for how the slaves are to be treated, stating that it is permissible to beat them and to have sex with them before they reach puberty, according to Human Rights Watch.
The parents of Kayla Mueller, an American aid worker in her 20s who was held hostage by the Islamic State, told reporters in August that their daughter had been taken as a "wife" and repeatedly raped by Abu Bakr al-Baghdadi, the group's leader, according to accounts of a Yazidi teenager who was held with her. Mueller died while being held by the Islamic State, but the exact cause of her death is unclear.
Among their own members and the millions of Iraqi and Syrian women living in their conquered territory, the militants have created an elaborate social architecture to ensure a steady supply of brides and sex for fighters.
When a married foreign fighter and his children arrive in the Islamic State, they are given a house, which usually has been confiscated from local families who either have fled, been killed or forced out.
Unmarried foreign women are required to stay in a hostel, where they get food and a monthly "allowance," according to a recent report by the Institute for Strategic Dialogue in London, which studied the experiences of a dozen foreign women by tracking their social media postings.
Shiraz Maher, a researcher at the International Center for the Study of Radicalization and Political Violence at King's College in London, said single fighters are permitted to come to the unmarried females' hostel, meet the women and ask them to remove their veils. If the men like what they see, they can become engaged immediately. Maher said women in the Islamic State may have some say over whom they marry - but not much.
"There's not a long process," he said. "You meet that morning; you are engaged by evening."
Still, Maher said that with local Syrian families keeping their daughters away from the militants, there has been a shortage of available wives for foreign fighters. He said some fighters, including one from Britain, have complained on Twitter about being unable to find a spouse - a rare sign of discord in the flow of rosy propaganda from the militants.
"Some of these guys are getting really frustrated," Maher said.
A woman who calls herself Shams, an Islamic State online propagandist, described her marriage on her Tumblr account. She said she had lived as a single woman in Syria for two months after arriving in February 2014 and found single life "quite hard," so she decided to marry a fighter after meeting him twice.
She posted a picture of herself fully veiled in white, with only her eyes showing, and her husband, who is wearing a white short-sleeved shirt and a black skinny necktie. The photo is captioned: "Marriage in the land of jihad. Till martyrdom do us part."
Shams has identified herself as a 27-year-old physician from Malaysia and her husband as a Moroccan-born fighter. She posted what she called a selfie of the wedding couple: a stethoscope wrapped around an AK-47.
_ _ _
There is growing frustration among foreign women who come to the Islamic State not to marry, but to fight, which is forbidden by the militants.
"We've seen a number of women who are not that happy with fact they are not allowed to fight and who are quite vocal," said Peter Neumann, director of the radicalization institute at King's College.
Neumann said some of the complaints reflect a clash between the Western societies - mainly Europe - where these women were raised, and their new home, which is largely modeled on Islamic society from 1,400 years ago.
"They are obviously attracted to a medieval ideology, and at the same time, some of their attitudes are very Western," Neumann said.
Erin Marie Saltman, a senior researcher at the Institute for Strategic Dialogue, said the frustration among foreign women was evident from their increasingly harsh social media posts.
"There are more women now, and more Western women, and they are actually taking on the more violent voice," she said.
Saltman said many of the women also are shocked to discover that life in the Islamic State is filled with violence and many shortages, including of electricity and clean water - far from the paradise portrayed in propaganda.
"When you arrive in the Islamic State, it's never going to be what it says on the can," Saltman said. "You almost are forced to radicalize further to justify the journey that you made, to justify leaving your home behind."
Some women have been given a quasi-fighter role as members of female police brigades that enforce the Islamic State's regulations, especially on women's dress and activities. Others have reportedly been used to help search women at checkpoints.
But, according to the Islamic State manifesto, women will be placed in fighting roles only if a religious fatwa is issued stating that the "situation for Muslims has become desperate."
Neumann said the Islamic State inevitably would start using women as suicide bombers, as al-Qaida, which gave rise to the Islamic State, did in Iraq. Already, there are signs that at least some women have suicide vests prepared in their homes.
According to the Institute for Strategic Dialogue report, a woman calling herself Umm Khattab wrote on Twitter in December about hearing gunshots in Raqqa and being afraid her home was about to be attacked.
She wrote that she was so worried, "I put the belt on and everything."
_ _ _
By definition, the Islamic State will nearly always be at war, as its stated aim is to establish a global caliphate by force. That means endless deaths of its fighters and countless young widows who will be encouraged to remarry again and again.
When a fighter is killed, his widow observes the traditional Islamic mourning period of four months and 10 days. After that, she is available to be married to another fighter.
Although many Islamic State marriages seem to be purely pragmatic arrangements for producing children, Saltman said that many also involve a deep attachment between husband and wife.
"There is a romantic, escapist element for many of these women," Saltman said. "When you are younger, when you have lost your virginity to someone, had their child, they are your provider. It's not the love we see in a Western teen movie, but this is an attachment to somebody. And it's a very deep love in its own way."
© 2015 The Washington Post