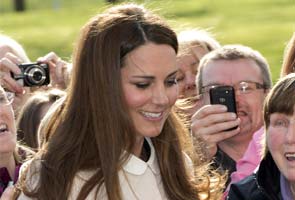 London:
Prince William and wife Kate Middleton's unborn child has already triggered off a baby boom for Britain's royal family.
For the first time in its history, the Royal Collection is to begin selling baby goods for visitors to buy from gift shops while visiting any of the royal palaces or castles around the country.
They would, however, be on sale only as Kate, the Duchess of Cambridge, gets closer to giving birth to the future King or Queen of the United Kingdom.
"The range is to be made but not brought onto sale until after the birth of the royal baby in July," said a spokesperson for the Royal Collection - the custodian of one of the largest and most important art collections in the world.
The Royal Collection Trust, the charity in charge of Queen Elizabeth II's art collection, will receive all the proceeds from the sale of the latest range of baby souvenirs to be spent on the upkeep of her collection of art treasures and exhibitions.
The Royal Collection usually brings out time-specific royal memorabilia.
Last year, it began selling goods related to the 86-year-old Queen's Diamond Jubilee and on the occasion of William and Kate's Royal Wedding in 2011, they sold wedding memorabilia, which raised over five million pounds.
The Duchess had then offered her wedding dress as the centrepiece of Buckingham Palace's summer opening to the public in 2011, which meant a further boost to the Collection's coffers.
The bridal gown proved a huge attraction, boosting the number of visitors to the Queen's London residence by 191,000.
More than 10 million pounds were spent on admission tickets, an increase of almost 3.5 million pounds on the previous year.
The money generated by the Queen's Diamond Jubilee souvenirs will be disclosed later this year.
The Royal Collection Trust has never produced any commemorative baby items as it was not established until 1993, nine years after the birth of Prince Harry.
The Collection is currently selling a Diamond Coronation china range in vast numbers, including a crown teapot for 295 pounds and a limited edition celebration bowl for 595 pounds.
A more humble coffee mug costs 25 pounds.