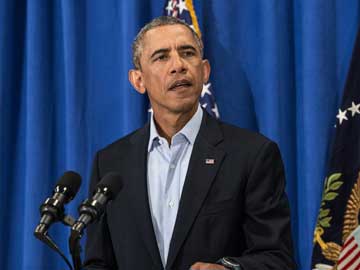 Edgartown, United States:
US President Barack Obama called for a joint effort to eliminate the "cancer" of jihadist terror in Iraq and Syria on Wednesday, after Islamic State militants murdered an American journalist.
Obama said the entire world was appalled by the beheading of 40-year-old reporter James Foley, which the IS fighters videotaped and published on the Internet.
"There has to be a common effort to extract this cancer so it does not spread. It has to be a clear rejection of these kind of nihilistic ideologies," Obama said.
"One thing we can all agree on is that a group like ISIL has no place in the 21st century," he said, using the acronym for the group when it was formerly known as the Islamic State in Iraq and the Levant
He said the group speaks for no true religion, and threatens Moslems and non-Moslems alike.
"Their victims are overwhelmingly Moslem and no faith teaches people to massacre innocents. No just god would stand for what they did yesterday and what they do every single day," Obama said.
He said he had spoken to the parents of Foley, a freelance reporter who contributed to GlobalPost, AFP and other outlets before being kidnapped two years ago, and "told them we are all heartbroken at their loss."