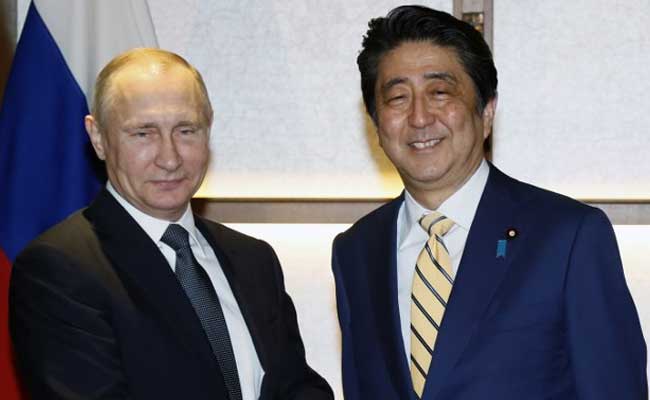 Nagato, Japan:
The leaders of Russia and Japan met at a hot springs resort in western Japan on Thursday for talks on a territorial dispute that has divided their countries for 70 years.
For Russian President Vladimir Putin, the summit meeting marks his first official visit to a G-7 country since Russia's 2014 annexation of Crimea.
In brief remarks to reporters before the meeting, Japanese Prime Minister Shinzo Abe referred to the famous hot springs waters of Nagato, the city where they are meeting.
"I can guarantee you that the hot springs here would fully remove fatigue from our summit talks," he said.
Putin replied, "Better not to get too tired." He also credited Abe's efforts for "a certain movement in the development of Russian-Japanese ties."
During two days of talks, Abe hopes to make progress on a long-running territorial dispute, while trying to bolster ties with economic projects. A major breakthrough is seen as unlikely.
Abe has invited Putin even though the G-7 nations, including Japan, still have sanctions on Russia. The meetings will move to Tokyo on Friday.
"This really is an extraordinary development," said James Brown, author of a book on the Japan-Russia territorial dispute and a professor at the Japan campus of Temple University in Tokyo. "I think Prime Minister Abe is being really quite bold in announcing this new approach to relations with Russia, especially coming at such a difficult time in relations between Russia and the West."
The meeting started after 6 p.m, more than two hours behind schedule, because Putin's plane landed late. Putin has a reputation for late arrivals. He kept Pope Francis waiting at the Vatican for one hour and 20 minutes in 2015. Earlier this month, Japanese Foreign Minister Fumio Kishida waited for two hours when he visited the Kremlin.
Abe, who flew from Tokyo to Nagato in the morning, used the time to visit the grave of his father, Shintaro Abe. As foreign minister, the elder Abe strove for a resolution of the territorial dispute in the 1980s.
Disagreements over four southern Kuril islands, which Japan calls the Northern Territories, have kept the countries from signing a peace treaty formally ending their World War II hostilities.
"I hope to negotiate thoroughly in quiet atmosphere, in the silence of the night," Abe told reporters in Tokyo ahead of his departure for Nagato. "I head into negotiations keeping close to my heart the long-cherished desire of the former islanders" to resolve the dispute.
Japan says the Soviet Union took the islands illegally at the end of World War II, expelling 17,000 Japanese to nearby Hokkaido, the northernmost of Japan's four main islands. Russia governs the islands and the Russians who now live there.
Putin told Japanese journalists earlier this week that progress hinges on Japan's flexibility to compromise, and that he doesn't mind the status quo. "We think that we have no territorial problems. It's Japan that thinks that is has a territorial problem with Russia," he said.
But Russia wants to attract Japanese investment, particularly to its far east. Japan hopes that stronger ties through joint economic projects will help resolve the thorny territorial issue over time.