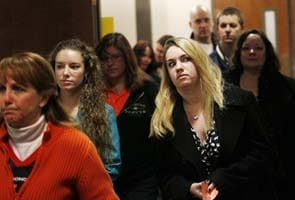 Centennial, Colorado:
Emotions boiled over on Friday at a court hearing for James Holmes, the man charged with shooting 12 people to death and wounding dozens more at a Batman movie, when the father of one victim shouted, "Rot in hell, Holmes!"
The eruption came as the 25-year-old former graduate student was being ushered out of a suburban Denver courtroom in shackles at the conclusion of the brief proceedings.
Holmes' back was turned to the packed courtroom audience at the time, and there was no visible reaction from him.
But the outburst captured the anguish palpable just beneath the surface among many of those present during three days of wrenching testimony earlier this week about the shooting last summer, the carnage it left and the elaborate preparations Holmes is accused of making for the attack.
On Thursday, Arapahoe County District Judge William Sylvester ruled that the prosecution's evidence had established probable cause to believe that Holmes committed the crimes alleged against him and ordered him to face trial.
Returning to court with their client on Friday, Holmes' lawyers asked for additional time to prepare for entering a plea, and the judge agreed to postpone the arraignment until March 12.
It was moments after Sylvester adjourned the brief hearing that Steve Hernandez, whose daughter Rebecca Wingo, 32, died of multiple gunshot wounds in the massacre, yelled out in anger.
Sylvester quickly huddled with lawyers in the hallway and reconvened the hearing to admonish Hernandez.
"I can only begin to imagine the emotions that are raging. I'm truly sorry for your loss," the judge told Hernandez, asking that he exert greater self control.
"I meant no disrespect to the court," Hernandez replied, promising "no further outbursts."
MENTAL ISSUES LOOM
Holmes, a onetime doctoral student of neuroscience, is charged with multiple counts of first-degree murder and attempted murder, stemming from the July 20 rampage at a midnight screening of the Batman film "The Dark Knight Rises" in the Denver suburb of Aurora.
In addition to the 12 people who died, 58 others were wounded and a dozen more suffered other injuries.
The tragedy stands as one of the deadliest mass shootings in U.S. history and one that ranked briefly as the most lethal in 2012 - until 20 children and six adults were killed last month at a Connecticut elementary school.
Some legal experts say this week's proceedings left Holmes' lawyers little choice but to mount an insanity defense for their client.
"The defense team has nowhere else to go, given the obvious premeditation and overwhelming evidence against Holmes," Craig Silverman, a former Denver prosecutor now in private practice as a trial attorney, told Reuters.
Once Holmes enters a plea, prosecutors will have 60 days to decide whether to seek the death penalty.
If Holmes were to plead not guilty by reason of insanity, prosecutors would bear the burden under Colorado law of proving that he was mentally capable of knowing right from wrong. However, juries have typically shown reluctance to accept an insanity defense, he said.
Silverman said prosecutors presented compelling evidence that Holmes knew right from wrong when they displayed his online dating profile, posted weeks before the shooting with the headline: "Will you visit me in prison?"
Holmes is accused of entering Theater 9 of the Century 16 multiplex with a ticket he bought 12 days in advance, then leaving through a rear exit minutes into the movie and re-entering moments later wearing body armor and a gas mask.
Armed with a shotgun, pistol and semi-automatic rifle, authorities say, Holmes lobbed a tear gas canister into the auditorium and sprayed moviegoers with bullets until one of his guns jammed, then surrendered to police without a struggle in the parking lot behind the theater.
Police testified that Holmes began assembling his collection of guns and ammunition two months before the shooting, scouted out the multiplex weeks ahead of time, and took photos of his arsenal and of himself posed with weapons and body armor.
Holmes had booby-trapped his apartment near the theater with explosives, which police said was intended to draw authorities away from the movie house while he was carrying out his assault. The bombs were later defused safely.
© Thomson Reuters 2013