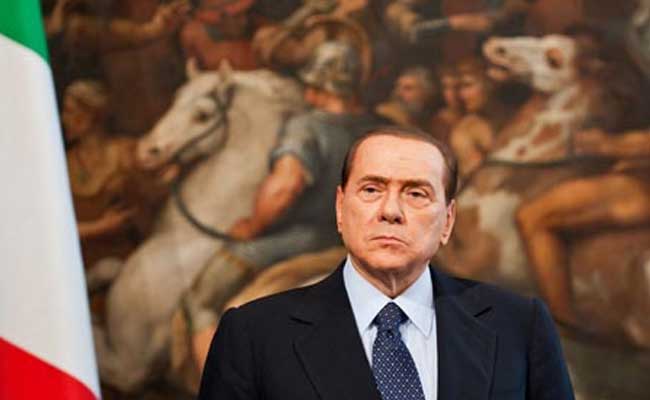 Rome:
A Vatican leaks scandal that was already rich in claims of sex, scheming and spying has widened to embroil Silvio Berlusconi, former PM of the country, and add allegations of blackmail and computer hacking to the mix.
Berlusconi denied late on Tuesday that he had had any contact with Francesca Chaouqui, an ex-PR consultant to the Vatican who is one of five people, including two journalists, on trial over the leaking of classified Holy See documents.
Berlusconi issued the denial after it emerged that his brother Paolo, a newspaper publisher, had been named in an Italian investigation into Chaouqui and her husband Corrado Lanino which is separate from but related to the Vatican case.
Prosecutors suspect that Chaouqui attempted to pressure Paolo Berlusconi into sacking the newspaper Il Giornale's Vatican correspondent Fabio Marchesi Ragona by threatening to expose Silvio for supposedly holding a secret account at the Vatican bank.
Silvio Berlusconi's lawyer Niccolo Ghedini said his client was never informed of such a threat.
"Besides, it would have been impossible to make any 'demands' since there is no possible link between President Berlusconi and Vatican affairs or the Vatican bank," he said.
Prosecutors suspect the alleged attempt to blackmail Paolo Berlusconi into silencing a journalist whose reports had embarrassed Chaouqui reflected a pattern of behaviour in which she used her status as a Vatican insider to secure favours or to provide contacts with access to high-ranking Vatican officials.
Conspiracy
Italy's financial police raided Chaouqui's Rome flat on Tuesday evening, seizing papers and computers.
According to media reports, her husband is also under investigation, suspected of using his computer hacking skills to assist his wife.
Prosecutors were alerted to Chaouqui's allegedly illicit conduct as they looked into another scandal to hit the Church, related to the sale of the 14th-century San Girolamo castle in Narni, Umbria.
Italian Archbishop Vincenzo Paglia is suspected of conspiring with local officials to buy the castle from the town council at an artificially low price with the intention of later selling it at its true value several years later.
Chaouqui is due to give evidence in the Vatican leaks trial when it resumes on Monday.
The case was adjourned this week to give her new lawyer more time to prepare her defence against charges that she, Spanish Monsignor Lucio Vallejo Balda and his assistant conspired to leak secret documents to which they had access as members of an economic reform commission appointed by Pope Francis.
The documents provide evidence of mismanagement in Vatican spending and some elements of corruption and were used as the basis of books by the two investigative journalists who are also on trial.
The Vatican has been widely criticised for pursuing the prosecution of the reporters in a case that has generated many embarrassing headlines for the Holy See.
The latest came earlier this week when it emerged that Vallejo Balda had made a statement saying he leaked the documents under Chaoquita's influence.