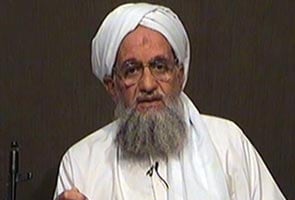 Washington:
The US government has vowed to hunt down Ayman al-Zawahiri, the new head of the terror outfit Al Qaeda, who remains at large in Pakistan's tribal area, says a top US counter-terrorism official.
Labelling the Egyptian cleric as now the number one target of the US, John Brennan, the US Deputy National Security Advisor told CNN: "We believe he (Zawahiri) is in that region of the world, as well as other Al Qaeda leaders that continue to borough into areas of...the Federally Administered Tribal Areas of Pakistan."
The new Al Qaeda Chief took over the leadership last year after the death of Osama Bin Laden. Mr Brennan said: "We're not going to relent until they're brought to justice one way or the other."
Speaking to reporters ahead of the first death anniversary of Osama, the top US official said: "We demonstrated the ability to do that with Osama. We are in constant consultation with our Pakistani counter-terrorism partners on a regular basis about how we can do this as soon as possible."
On Al Qaeda, he said: "They have to go. It's an organisation that's dedicated to murder and mayhem and we as well as other countries of the world are determined to make sure that that happens."
The US is also focused on the Al Qaeda in Yemen, he said. "There are leaders of Al Qaeda in the Arabian Peninsula
that we are focusing on. And we're trying to make sure that they're brought to justice. Again, one way or the other, we're going to work closely with our Yemeni partners," he said.