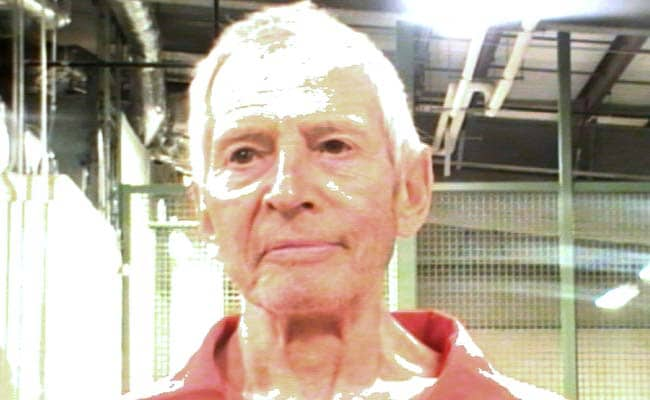 Washington:
An eccentric US tycoon linked to several mysterious deaths appeared in court on a murder charge on Monday, following the explosive finale of a television documentary in which he seems to admit his own guilt.

Robert Durst, the scion of one of New York's wealthiest real estate dynasties, has waived his right to extradition from Louisiana - where he was arrested on Saturday - to California, where he will face charges in the 2000 death of his friend Susan Berman.

His arrest came on the eve of the shock final episode in the six-part HBO documentary "The Jinx: The Life and Deaths of Robert Durst."

In the finale, Durst, 71, is heard muttering to himself, "What the hell did I do? Killed them all, of course" - apparently unaware that a wireless microphone remained switched on while he used the bathroom.

It was not immediately clear if Durst was sincerely confessing guilt.

The sensational development quickly exploded on Twitter, with Durst and #TheJinx rocketing to the top of the list of trending topics.

Durst's attorney Dick DeGuerin said his client was innocent and ready to face trial.

"Bob Durst didn't kill Susan Berman. He's ready to end all of the rumor and speculation," DeGuerin said outside the courthouse in New Orleans.

"We're ready to go to California and have a trial."

'So chilling'

It appeared that the investigative work done for the documentary directly contributed to Durst's arrest in the long-unsolved case.

"As a result of investigative leads and additional evidence that has come to light in the past year, investigators have identified Robert Durst as the person responsible for Ms. Berman's death," the Los Angeles Police Department said yesterday, without alluding to the TV series.

Berman, the daughter of a Las Vegas mobster, was shot dead execution-style in the back of the head in Los Angeles one day before police were to question her over the disappearance of Durst's wife.


Durst had long been under suspicion over his wife's death in 1982, but has denied any involvement.
The real estate mogul was also charged in 2003 in the murder and dismemberment of his 71-year-old neighbor in Texas two years earlier, but was found not guilty after a trial in which he claimed self-defense.
"Jinx" director Andrew Jarecki told ABC television today that he and his film crew were unaware of the apparent audiotape confession until discovering it while reviewing hours of recordings some three years after the fact.
"I sat there in the edit room with my partners, and we just sort of shook our heads and it took a while to really understand the impact of it. It was so chilling to hear it," Jarecki said.
He told ABC that the incriminating statement, which came during their second and final interview of Durst, led them to notify authorities.
"We've been in contact with law enforcement for the past two years, so when we finally found... what happens in the bathroom, we contacted them and we said, 'We have something more'," Jarecki said.
A source told the Los Angeles Times the documentary had played a role.
Brother 'relieved'
FBI agents believe Durst may have been planning to flee the United States because he registered under an alias at the hotel where he was arrested, paid with cash and was found with fake documents, a source told ABC News.
In a statement to ABC, Douglas Durst, who runs the family real estate empire, said his brother should pay for his alleged crimes.
"We are relieved and also grateful to everyone who assisted in the arrest of Robert Durst," the statement said.
"We hope he will finally be held accountable for all he has done."