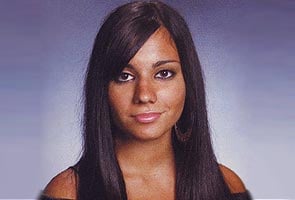 Mineola, New York:
A New York college student being held by an armed home intruder was shot and killed by a police officer who had responded to a report of a home invasion at an off-campus home, police said on Saturday.
Andrea Rebello was shot once in the head on Friday morning by an officer who opened fire after the masked intruder, Dalton Smith, pointed a gun at the officer while holding the 21-year-old Hofstra University student in a headlock, Nassau County homicide squad Lt. John Azzata said.
The Nassau County police officer fired eight shots at Smith, who has what police have described as an "extensive" criminal background, Azzata said. Smith was hit by seven bullets and died. Rebello was shot once in the head, Azzata said.
Nassau County Police Commissioner Thomas Dale said he had traveled to Rebello's home to explain to her parents what happened.
Earlier Saturday, police announced that Smith, 30, was wanted on a parole violation related to a first-degree robbery conviction and had an arrest history dating back nearly 15 years.
The shooting came just days before the school's graduation ceremonies, which are scheduled to take place Sunday.
A university spokeswoman said Saturday students will be handed white ribbons to wear in memory of Rebello.
Rebello was in the two-story home with her twin sister Jessica, another woman and another man were when the Smith, wearing a ski mask, walked into the house through an open front door, Azzata said. The intruder allowed the third unidentified woman to leave and collect money from a cash machine, and she called police.
Two police officers arriving at the home encountered Smith holding onto Rebello.