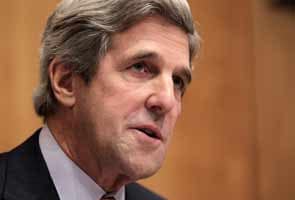 Washington:
Secretary of State John Kerry headed to Qatar on Friday on a mission to coordinate with allies on the next steps in Syria as the United States considers how far to go on assisting rebels.
Kerry flew out of Washington on the start of a 12-day trip that will also include meetings in emerging US partner India, an Asia regional conference in Brunei and his latest attempt to revive the Middle East peace process.
The top US diplomat was to meet Saturday with fellow foreign ministers of the so-called London 11 "Friends of Syria" group in Qatar, an oil-rich monarchy at the forefront of helping rebels battling President Bashar al-Assad.
The United States has vowed to boost support for the rebels after declaring that Assad defied warnings not to use chemical weapons, but President Barack Obama is cautious about becoming embroiled in an increasingly sectarian conflict that has claimed nearly 100,000 lives.
"The goal of the meeting is to be very concrete about the importance of every kind of assistance that's coming from the London 11 countries... being fully coordinated and going through only the Syrian opposition coalition," a US official said.
The official said that the Qatar meeting was critical as the Syrian National Coalition was looking at its leadership, amid concerns in Washington that fighters against Assad lack cohesion and direction.
"This is all in support of energizing, reenergizing, the Syrian opposition coalition leadership to work to select its leadership," the official said on condition of anonymity.
Qatar has also played a key role in reconciliation efforts in Afghanistan by playing host to a mission of the Taliban, with which the United States plans talks as it prepares to end more than a decade of war next year.
But the long-planned initiative has faced strident criticism from Afghan President Hamid Karzai, who objects to the mission's name of the Islamic Emirate of Afghanistan -- which may imply a government in exile from the hardline 1996-2001 Taliban regime.
Another US official said that Jim Dobbins, the US pointman on Afghanistan and Pakistan, was preparing to go to Qatar but that Kerry had no personal plans to meet with the Taliban in Qatar.