Washington:
US President Donald Trump on Thursday said he would be willing to step in and mediate the worst dispute in decades among the US-allied Gulf Arab states and Qatar, and said that he thinks a deal could come quickly.
"If I can help mediate between Qatar and, in particular, the UAE and Saudi Arabia, I would be willing to do so, and I think you would have a deal worked out very quickly," Trump said at a joint news conference with
The nations say Doha supports regional foe Iran and Islamists, charges Qatar's leaders deny. Kuwait has been trying to mediate the dispute.
"What is important is that we have stopped any military action," Sheikh Sabah said.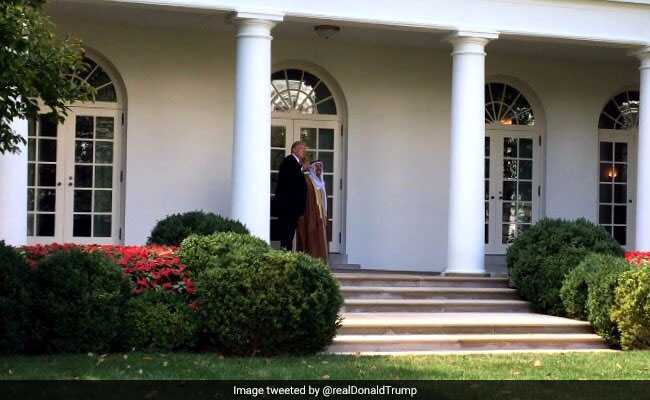 While both sides in the dispute have ruled out the use of armed force, some ordinary Qataris have said they worry about the possibility of military action, given the ferocity of the criticism their country has received from media in the four Arab states.
Sheikh Sabah said he had received a letter from Qatar that expressed willingness to discuss a list of 13 demands from its neighbours.
"We know that not all of these 13 demands are acceptable," Sheikh Sabah said, referring specifically to issues that affected Qatari sovereignty.
"A great part of them will be resolved," he said.
Qatari officials have repeatedly said the demands are so draconian that they suspect the four countries never seriously intended to negotiate them, and were instead seeing to hobble Doha's sovereignty. At the same time, they have said Qatar is interested in negotiating a fair and just solution to 'any legitimate issues' of concern to fellow Gulf Cooperation Council member states.
(Reporting by James Oliphant in Washington and Reem Shamseddine in Khobar, Saudi Arabia; Writing by Roberta Rampton and William Maclean; Editing by James Dalgleish)
© Thomson Reuters 2017
(Except for the headline, this story has not been edited by NDTV staff and is published from a syndicated feed.)
Get Breaking news, live coverage, and Latest News from India and around the world on NDTV.com. Catch all the Live TV action on NDTV 24x7 and NDTV India. Like us on Facebook or follow us on Twitter and Instagram for latest news and live news updates.