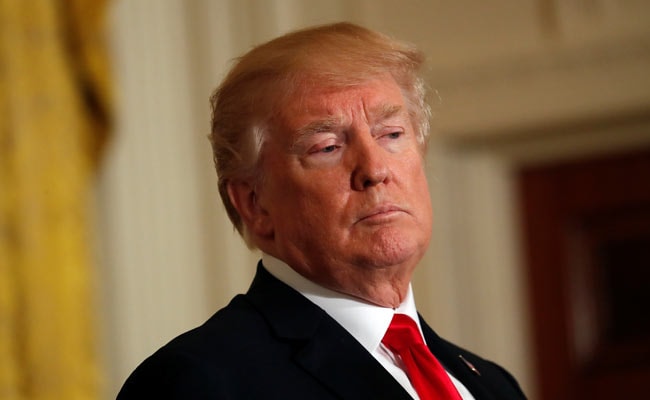 Highlights
Trump said he did not know where his attorney got the money from
Stormy Daniels claimed she met Trump in 2006 at a golf tournament
She claims the nondisclosure to be invalid because Trump did not sign it
Aboard Air Force One:
President Donald Trump said Thursday that he did not know that his personal attorney paid adult-film star Stormy Daniels $130,000 days before the presidential election to prevent her from publicly accusing Trump of having an affair.
In his first public response to questions about the payment, the president said he did not know where his attorney, Michael Cohen, got the money, and he declined to say if he ever set up a fund for Cohen to cover such expenses.
Trump's brief remarks Thursday afternoon raised the stakes for the president on two fronts. Daniels's attorney immediately suggested that Trump's version of events would be shown to be untruthful if he is deposed in a lawsuit brought by the adult film star. And his lack of knowledge about a hefty payment made in the final weeks of his presidential campaign could have implications for complaints now before the Federal Election Commission and the Justice Department about the arrangement's legality.
The government watchdog group Common Cause has argued that the payment was made to influence the 2016 presidential election and therefore it was an illegal in-kind contribution to Trump's campaign that was never publicly disclosed.
The payment came up as the president returned to Washington from West Virginia on Air Force One, and he spoke with reporters for about three-and-a-half minutes. At one point, a reporter asked him: "Did you know about the $130,000 payment to Stormy Daniels?"
Trump responded: "No."
The reporter then asked: "Then why did Michael Cohen make those, if there was no truth to her allegations?"
"You'll have to ask Michael Cohen," Trump said. "Michael's my attorney, and you'll have to ask Michael."
Another reporter then asked the president: "Do you know where he got the money to make that payment?"
"No," Trump said. "I don't know."
That reporter then asked: "Did you ever set up a fund of money that he could draw from?"
Trump ignored the question.
Neither Cohen nor his own attorney, Brent Blakely, could immediately be reached for comment Thursday.
Cohen acknowledged in February that he facilitated the payment to Daniels. In a statement to reporters at the time, he said that he was not reimbursed by the Trump Organization or the Trump campaign. He did not mention whether Trump himself played any role in the payment.
Cohen declined at the time to answer The Post's questions about whether Trump knew about of the payment or if the president reimbursed him. Cohen said only: "Just because something isn't true doesn't mean that it can't cause you harm or damage. I will always protect Mr. Trump."
Trevor Potter, a campaign finance expert and former FEC chairman, said Thursday the president's statement left unanswered questions about when he first learned of the payment and whether Cohen was reimbursed. He said another issue is whether anyone else in the campaign was involved.
Trump has stayed quiet about Daniels even as she did a recent "60 Minutes" interview that drew 22 million viewers.
She said she met Trump in 2006 at a Lake Tahoe celebrity golf tournament and had sex with him in his hotel. She claimed that when she attempted to tell her story to a tabloid magazine in 2011, she was threatened in a Las Vegas parking lot by an unidentified man.
In 2016, Daniels again discussed her story with media outlets. Twelve days before the election, she struck the deal with Cohen to remain silent in exchange for $130,000. She received the money from Essential Consultants, a limited liability company that Cohen set up as a vehicle for the payment.
Daniels, whose real name is Stephanie Clifford, last month filed a lawsuit against Trump and Essential Consultants in U.S. District Court for the Central District of California. She asked the court to declare the nondisclosure agreement invalid because - while Cohen signed the agreement - the then-Republican candidate never did. Daniels has also accused Cohen of defamation.
A clause in the nondisclosure agreement requires that disputes be mediated in private arbitration, where proceedings are confidential, rather than in open court. On Monday, Trump and Cohen each filed court documents seeking to enforce that clause.
David Super, a professor of contract law at Georgetown University, said the president's comments "largely destroy" his own argument that the nondisclosure agreement with Daniels is valid. The agreement required Trump to make certain commitments which he could not make if he was unaware of the payment.
"Nothing in the contract, and nothing in his remarks, suggests that he had given Cohen the right to make binding commitments on his behalf," Super wrote in an email. "With these comments, we are almost certain to see this litigation play out in a public court case rather than in private arbitration."
Michael Avenatti, Daniels' attorney, quickly responded to Trump's remarks on Twitter.
"We very much look forward to testing the truthfulness of Mr. Trump's feigned lack of knowledge concerning the $130k payment as stated on Air Force One," he tweeted. "As history teaches us, it is one thing to deceive the press and quite another to do so under oath."
Last week, Avenatti sought an expedited jury trial and permission to depose the president for up to two hours. A federal judge quickly denied that request, deeming it premature.
Cohen has said he intends to seek $20 million in damages from Daniels for breaking the nondisclosure agreement.
The Washington Post's Tom Hamburger and Mark Berman contributed.(This story has not been edited by NDTV staff and is auto-generated from a syndicated feed.)