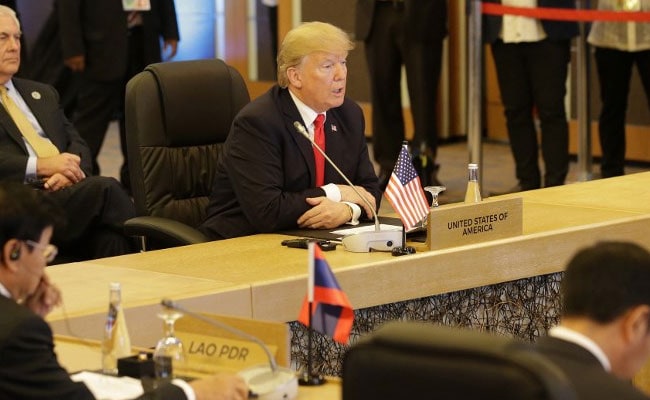 Washington:
The US President on Thursday said three college basketball players freed by China after being arrested for shoplifting should thank the Asian nation's head of state for intervening on their behalf.
In a news conference on Wednesday in Los Angeles, the three University of California, Los Angeles (UCLA) players delivered prepared statements in which they expressed regret for their actions and thanked US President Donald Trump for his administration's efforts to secure their release from custody.
"To the three UCLA basketball players I say: You're welcome, go out and give a big Thank You to President Xi Jinping of China who made your release possible and, HAVE A GREAT LIFE! Be careful, there are many pitfalls on the long and winding road of life!" Trump tweeted.
On Wednesday, President Trump took credit for the release of LiAngelo Ball, Cody Riley and Jalen Hill and said his intervention had spared them a potential 10-year prison sentence.
"Do you think the three UCLA Basketball Players will say thank you President Trump? They were headed for 10 years in jail!" the President wrote on Twitter.
The three players arrived in Los Angeles late on Tuesday, almost a week after being arrested on November 8 on charges of stealing merchandise, including designer sunglasses, from stores at a high-end mall in the eastern Chinese city of Hangzhou.
The UCLA team was in China to play their season-opening game against Georgia Tech in Shanghai, a contest the California squad won 63-60 last Friday despite being without the services of those three players.
President Trump, who returned this week from a 13-day tour of Asia, visited Beijing shortly after the American players were arrested and discussed their situation with Xi.
"What they did was unfortunate. You know you're talking about very long prison sentences. (The Chinese) do not play games," President Trump said, adding that Xi had been "terrific on that subject."
UCLA has indefinitely suspended the players, who will not be allowed to travel or practice with their teammates while the university conducts a review of the thefts.
"These young men will have to prove in their words and their actions that this is not who they are," UCLA head coach Steve Alford said, adding that the players had shown an "inexcusable lapse of judgement".