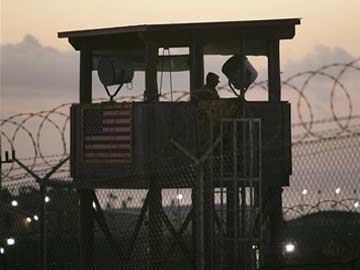 Washington:
A panel of federal judges has upheld a new policy allowing guards at the US "war on terror" prison at Guantanamo Bay, Cuba, to search the groin areas of suspects meeting with their lawyers.
The US Court of Appeals for the DC Circuit ruled unanimously on Friday that such searches of clothed inmates were "reasonable security precautions" that promote "the safety of the guards and inmates by more effectively preventing the hoarding of medication and the smuggling of dangerous contraband."
In the 14-page ruling Judge Thomas Griffith overturned a 2013 ruling by District Judge Royce Lamberth ordering a halt to the intrusive searches.
"It has long been Guantanamo policy that detainees are searched both before and after any meeting with a visitor. Standard protocol in military prisons calls for a non-invasive search of the genital area of a prisoner. In the past, searches at Guantanamo departed from that element of the protocol in an effort to accommodate the religious sensibilities of the detainees," Griffith wrote.
"Concerns arose that not searching the genital area was posing a security threat. Those concerns escalated with the suicide of a detainee who took an overdose of medication that he had smuggled into his cell and the discovery of shanks, a wrench, and other weapons in the housing camps that had evaded the searches."
The search procedures were revised in May 2013 but quickly put on hold by Judge Lamberth.
Now the guards are authorised to search the groin and buttocks area through the clothes. "At no time is the detainee's groin visually exposed to the guard," Griffith wrote.
The case is Hatim et al v. Obama.
The prison at the US naval base at Guantanamo Bay opened in 2002 under president George W. Bush to house "enemy combatants."
There are currently 149 inmates held at the site out of a total of 779 who have been held there over the years.
US President Barack Obama has vowed to close the jail, but his attempts have been partly hampered by Congress, which refuses to allow any of the inmates to be transferred from the prison to US soil.