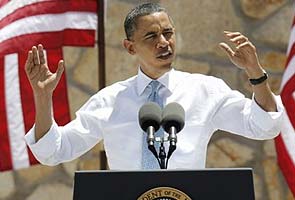 Washington:
Ricardo Campo, a burly and jolly native of El Salvador, and President Barack Obama both have a huge investment in Congress' attempt to overhaul U.S. immigration laws, to deal with the estimated 11 million people living in the United States illegally.
For Campo, a 21-year-old University of Maryland pre-medical student, his future in the country may depend on it. For Obama, a sweeping immigration overhaul is central to his legacy, his best hope for legislative success after Congress turned back his push on gun control and a grand bargain on the nation's finances.
The Senate is considering a bipartisan bill that would make the biggest changes in America's muddled immigration system since 1986, when Ronald Reagan was president. It would strengthen border security, allow tens of thousands of new high- and low-skilled workers into the country, require employers to check their workers' legal status and provide an eventual path to citizenship for immigrants now here illegally.
Campo is "very confident" lawmakers will pass a measure that makes a start on fixing the problem, but "there's still plenty in the legislation I don't like," he said at a demonstration outside a Senate hearing on the proposed law.
Obama voiced similar optimism and misgivings about the measure, written by four Republicans and four Democrats.
"The bill that they produced is not the bill that I would have written. There are elements of it that I would change - but I do think that it meets the basic criteria that I laid out from the start," the president said at a news conference Tuesday.
The measure is similar to the immigration principles Obama outlined in January, though there are key differences. For example, the Senate bill makes the pathway to citizenship contingent on securing the border, a link that Obama opposes. It does not recognize gay couples, which Obama supports.
Obama faces a dilemma in pushing for the bill. If he is too closely aligned with the legislation, it could scare away Republicans wary of appearing to hand the president a win. But if he stays on the sidelines and the overhaul runs into trouble in Congress, Obama likely will be criticized for not fighting for votes, as he was after the recent failure of gun control measures he championed.
Even if the bill passes the Democratic-led Senate, it will face a rockier path in the Republican-led House of Representatives. Still many Republicans are supporting immigration changes after their party's poor showing among Hispanics, a growing part of the electorate, in last year's elections.
Florida Sen. Marco Rubio, a favourite of conservatives and potential Republican presidential candidate in 2016, is one if the bill's architects, as is Republican Sen. John McCain. And in the House, the measure has won praise from House Speaker John Boehner and Rep. Paul Ryan, the Republican vice presidential candidate last year.
"I think the Republicans got the message on Nov. 6," Campo said, referring to election day.
Campo is a beneficiary of an executive order Obama issued last year. It allows young people brought to the country as children by parents who are in the U.S. illegally to stay. Obama issued the order after similar legislation, known as the DREAM Act, failed in Congress. It exempts Campo from current immigration laws for two years, with the possibility of renewal, because he is a university student. The same applies to young immigrants who served in the U.S. military and grants others work permits. Immigration activists estimate the order will provide relief for at least 800,000 people.
Campo said he was nine when his father, a hospital director in El Salvador, fled the Central American country with his family in November 2001. His father's life was threatened and the family home was repeatedly invaded by gangs, he said.
Campo is particularly concerned about a date in the proposed Senate legislation. Potential relief for immigrants in the country illegally would not apply to those who arrived after Dec. 31, 2011.
"We want everyone to be included on the bill when President Obama signs it," he said.
That also bothers Oscar Alfaro, a 37-year-old Honduras native, who was at the demonstration with his toddler daughter and wife. He said he came to the United States in 1999, worked in restaurants and as a labourer before sending for his family. He applied for resident status - a green card - in 2004. His case went to court in 2011 and he said he was ordered to leave. He was given what is known as a voluntary deportation order, which gives immigrants time to clear up their affairs before leaving. He and his family didn't go, he said, and he now is working odd jobs and organizing the immigrant community.
"My experience proves that we need reform because we have these laws now that provide no road for us to regularize our lives," he said.
Congressman Luis Gutierrez, who represents a heavily Hispanic Chicago district in the House of Representatives, is a major voice for immigration reform and has been arrested twice in demonstrations outside the White House. He sounded optimistic about prospects for the legislation.
"More than 400,000 will be deported this year and every day hundreds of children are left orphaned while we wait for the Congress to act," Gutierrez told demonstrators. "We are working hard in the House. Soon we will join the Senate to present a comprehensive reform bill."
But House passage is in no way assured. Judiciary Committee Chairman Bob Goodlatte has said his committee will not be willing to act on the sweeping Senate bill but instead wants to take up legislation piecemeal. For example, he said, he does not back a "special pathway to citizenship," but rather a way to give immigrants "some kind of legal status."
Polling shows about 70 per cent of Americans believe immigrants here illegally should be allowed to stay, but the number in favour of giving them a path to citizenship is about 45 per cent.