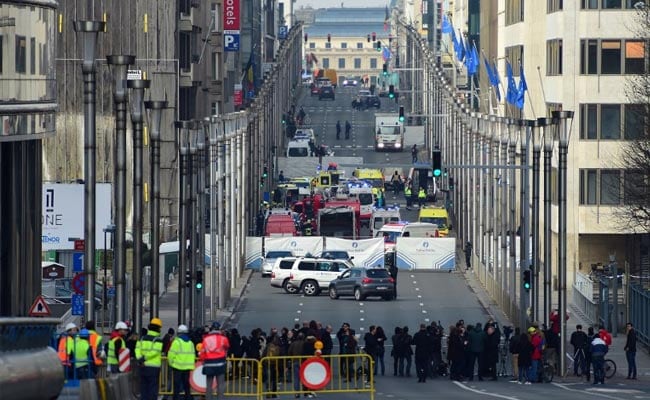 New York:
Airports in major US cities were on high alert on Tuesday, with police out in force after at least 30 people were killed in bombings on Brussels airport and a rush-hour subway train, though officials said there was no specific threat to the United States.
US President Barack Obama and Democratic presidential election contender Hillary Clinton vowed to do more to take on terrorists, while Republican presidential front-runner Donald Trump called for tighter border security and suggested US intelligence services could use torture to head off future attacks.
The Obama administration was expected to tighten security at US airports following the Brussels airport attack, which occurred in a public hall outside of the security check area.
US Representative William Keating of Massachusetts, the ranking Democratic Party member on a House subcommittee on terrorism, said the Brussels attacks illustrate the difficulty of protecting "soft targets" outside tightly controlled security cordons.
"We should learn from this that the targets aren't going to be just getting on the plane itself, but the airport in general," Keating said in a phone interview.
ISIS, a terrorist group that has gained control of large areas of Iraq and Syria and has sympathizers and supporters around the world, claimed responsibility.
Delta Air Lines Inc, United Continental Holdings Inc and American Airlines Group Inc reported that they had cancelled or rerouted flights as a result of the attack.
Large numbers of uniformed police officers, some in tactical gear as well as National Guard members in fatigues and carrying long weapons, were on patrol at New York's John F Kennedy International Airport.
One guard member was overheard telling a colleague "we have to keep an eye out for bags" after reports that many of the wounded at the Brussels airport had severe leg injuries, a pattern that suggests an explosion at ground-level, possibly from a bag.
Some travellers in the United States said they hoped airports would further tighten security following the Brussels attack.
"Perhaps it should take place sooner, before you get through security. I find it reassuring," said Mary Ray, 71, a retired government trainer flying home to Manchester, England, from New York after a Caribbean cruise with her husband, Malcolm.
Ray said she is happy to remove her shoes or have her hands swabbed as she passes through airport security: "I think it's a deterrent."
Three Mormon missionaries from the United States were injured in the airport blasts, the Church of Jesus Christ of Latter-Day Saints said. A US service member and his family were hurt, US officials said, but they gave no details.
'SCOURGE OF TERRORISM'
Obama addressed the attacks briefly in a speech in Havana on his historic first visit to Cuba, vowing to support Belgium as it seeks out those responsible.
"This is yet another reminder that the world must unite. We must be together regardless of nationality or race or faith in fighting against the scourge of terrorism," Obama said.
ISIS was blamed for killing 130 people in Paris last November. Then in December, a married couple inspired by ISIS shot dead 14 people in San Bernardino, California.
The attacks in Belgium drew immediate response from candidates seeking their party's nomination to run for the White House in the November 8 election.
Former US Secretary of State Clinton vowed to strengthen her drive to "defeat terrorism and radical jihadism."
Billionaire Trump told NBC's "Today" program: "If they could expand the laws, I would do a lot more than waterboarding. You have to get the information from these people."
He was referring to the practice of pouring water over someone's face to simulate drowning as an interrogation tactic. Obama banned its use by US interrogators after taking office in 2009.
Officials in cities including New York, Washington, Boston and Miami said they were aware of no specific threats targeting them following the Brussels attack.
While the attack immediately sparked discussion of further strengthening airport security, some pointed out the inherent difficulty of securing spaces that offer broad public access.
"There are limits to exactly how exhaustive those perimeters can become," US Secretary of State John Kerry said in an interview with Telemundo. "So people need to be vigilant, everybody needs to take precautions. I think it underscores to everyone the importance of people uniting."
Some travellers expressed concern that new security measures at airports, which have already imposed extensive restrictions since the September 11, 2001 attacks on New York and Washington, would cause more inconvenience without improving safety.
"It already takes all day," said Hans Vermulst, a 66-year-old construction materials company owner who was at New York's Kennedy airport trying to get home to Holland after his connecting flight to Brussels was cancelled. "We have to take it as it comes, but I'm not happy with it."
© Thomson Reuters 2016