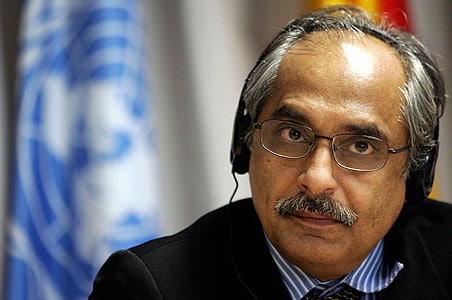 Colombo:
Amid international community's calls for a ceasefire in Sri Lanka's north, top UN official and veteran Indian diplomat Vijay Nambiar on Friday met President Mahinda Rajapaksa to discuss the plight of civilians trapped in fighting between the troops and LTTE as well as efforts to free them.
Nambiar, the Chief of Staff of UN Secretary General Ban Ki Moon, arrived in Colombo on Thursday evening on a two-day unannounced visit.
While officials parried questions about Nambiar's breakfast meeting with Rajapaksa, a statement issued by the UN on Thursday said that it continued to be concerned about the plight of Tamil civilians in the northern region.
Nambiar is understood to have discussed with Rajapaksa rehabilitation measures for over 40,000 Internally Displaced Persons (IDPs) in the LTTE-held region in Pudukudiyirippu.
Nambiar, accompanied by Hitoki Den of the UN Department for Political affairs and UN Resident Representative in Colombo Neil Buhne, held talks with Defence Secretary Gotabaya Rajapaksa on Thursday.
The United Nations said in its statement that the world body "expects to assist civilians leaving through No-Fire-Zone (NFZ) into liberated (Government-controlled) areas."
Sri Lankan government has already been engaged in rescue operations and the UN assistance will speed up the evacuation process, it said.