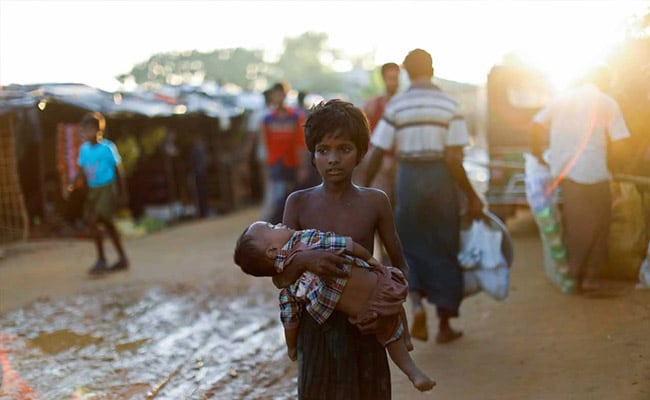 Dhaka:
The United Nations has raised the number of newly arrived Rohingya refugees in Bangladesh fleeing violence in Myanmar to 537,000.
This is an increase of about 1,000 since the last UN report.
The report by the Inter Sector Coordination Group of the UN includes data up to October 14 and said the UN had been able to verify the arrival of 18,000 new refugees last week, EFE news reported.
The report also said that the makeshift settlements in Kutupalong and Balukhali in the Cox's Bazar area, which have joined together due to increasing arrivals, have received 374,000 persons.
Another 89,000 refugees have taken shelter with local host communities.
"The speed and scale of the influx has resulted in a critical humanitarian emergency," the report said.
The Bangladesh government had counted 27,825 families and the Ministry of Home Affairs had registered 161,963 refugees until now, which is around 28 per cent of the total refugee population, according to the report.
The UN said that all the recently arrived refugees were in need of food, medical services and housing, although only 37,000 families had received an emergency kit, which includes a tarpaulin for temporary shelter.
The crisis began on August 25 when a insurgent group of the Rohingya Muslim minority staged a series of attacks on the police and army posts in Rakhine state, to which the Myanmar military responded with an ongoing large-scale offensive.
According to eyewitnesses and human rights organisations, the Myanmar army has razed villages and shot and killed an undetermined number of civilians while clearing the area.
Although Myanmar maintains that the violence was triggered by Rohingya rebels, the UN High Commissioner for Human Rights has accused the military of ethnic cleansing.
Before the military campaign, an estimated one million Rohingyas lived in Rakhine state in Myanmar, where the government denies them citizenship.
(This story has not been edited by NDTV staff and is auto-generated from a syndicated feed.)