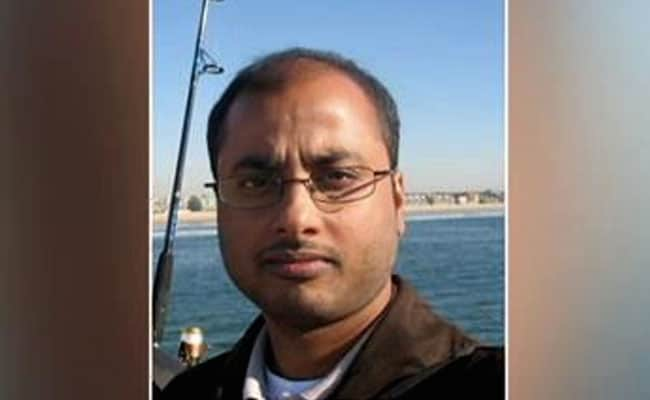 The Minnesota woman shot to death by a one-time UCLA graduate student was married to her killer, but her online presence shed little light on their life together.
Ashley Hasti was a medical student with a penchant for selfies with her cat and goofy science jokes. She once composed a rap about med school stresses and posted it to YouTube.
She was killed in her Brooklyn Park, Minnesota, home by her estranged husband, Mainak Sarkar, before he drove to Los Angeles to shoot a former professor, then take his own life.
In a Facebook post early Friday morning, Alex Hasti called her sister "the smartest, coolest, and funniest person."
"She could do anything she dreamed of," the sister wrote. "Her life was cut short much too soon by her estranged husband."
Minnesota records show she married Sarkar in June 2011, and images from social media indicate they knew each other as far back as August 2008.
Neighbors on her block in suburban Minneapolis said Sarkar had lived with her in the past but they had not seen him for some time. State records did not show there had been a divorce. Hasti earned an undergraduate degree in Asian languages and literature at the University of Minnesota before enrolling in a post-baccalaureate, premedical program at Scripps College in Claremont, California.
She began medical school at the University of Minnesota in 2012.
She was going to begin a summer semester next week.
Prezi, an online education platform, showed academic presentations written by Hasti on pregnancy and prenatal care. Hasti lived in Brooklyn Park, a Twin Cities suburb with curling, tree-lined streets.
Her house had a tuck-under garage with a long, unkempt lawn.
Hasti's neighbor, Terry Andrew, 68, said she seemed to fit in the community, but added he did not know her well.
"I have daughters so the idea of a young person losing their life like that, it's tragic," he said.
On social media, Hasti appeared vibrant and gregarious. She peppered her Facebook page with science-related jokes and selfies taken with a black-and-white short hair cat.
A month earlier she added an image of American painter and television host Bob Ross photo-shopped to look as though he was painting a white blood cell that appeared to be smiling.
"I'm studying, I swear," Hasti wrote in a caption. "But one needs a break sometimes."
Photos posted on another woman's Facebook page showed her meeting celebrities like actor Kumail Nanjiani from the HBO comedy "Silicon Valley" and comedian Ari Shaffir.
Then there are the photos of her with Sarkar.
Her sister's Facebook profile contained images of Ashley Hasti and Sarkar. The pictures show the couple at a theme park and on a beach.
One image, posted on the social media site on Aug. 25, 2008, shows Hasti and Sarkar forming a heart with their arms.
© Thomson Reuters 2016
(This story has not been edited by NDTV staff and is auto-generated from a syndicated feed.)