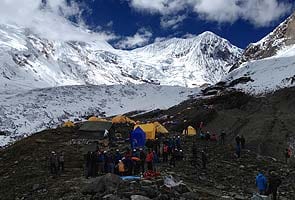 Kathmandu:
Two mountaineers from Uzbekistan have gone missing after they were hit by an avalanche while trying to scale the 8,091-metre Mount Annapurna in Nepal, an official said on Thursday.
Climbers from Uzbekistan, Ilyas Tukhvatullin, 54, and Ivan Lobanov, 51, were swept away on Monday evening and have not been found, Tilak Pandey, an official at the Mountaineering division of Tourism Ministry, said.
"They were at camp two at around 6,500 metres and we had been informed by their colleagues from the base camp after they were hit by an avalanche," Pandey told PTI.
A helicopter had been sent to locate the missing climbers but had to return without success due to dense fog in the area, he said.
Mount Annapurna, the tenth highest mountain in the world, is known as a technically difficult mountain to climb, where several other climbers have lost their lives in the past.
After the chopper failing to find the climbers, a team of Sherpas has been dispatched to launch ground search, according to ministry officials.
In September, nine climbers including five French mountaineers were killed when an avalanche hit them on way to Mt Manaslu in Nepal Northern Nepal.