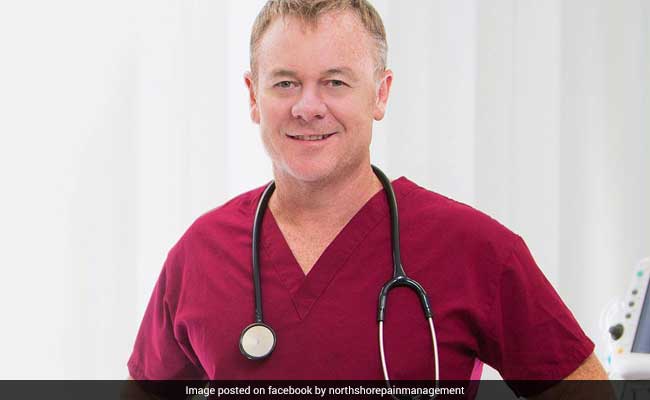 When Boston police entered the 11th floor penthouse apartment Friday night, they found a gruesome scene: the bodies of a man and a woman bound at the hands, their throats slit, and blood on the walls of the luxury condo. The killer had left cut-up photos of the couple, and a message of retribution.
Police would later identify the couple as Richard Field, 49, and Lina Bolanos, 38 - two Boston doctors who were engaged to be married.
The discovery of their bodies and "traumatic injuries" followed a call to police about an armed person in the building, an apartment complex on Dorchester Avenue in South Boston, police said. When officers arrived at about 8:40 p.m. Friday, a man with a firearm immediately started shooting at them, prompting police to return fire.
Officers struck the man, and after a violent struggle, placed him in custody and transported him to a hospital with nonlife threatening injuries, according to a police statement. No police officers were hit by gunfire but several were transported to hospitals for treatment of non-life threatening injuries.
"You have a guy here who just killed two people," Boston Police Commissioner William Evans told reporters. "He had nothing to lose."
Evans identified the armed man as Bampumim Teixeira, 30, the Boston Globe reported. Authorities expect to file multiple charges against Teixera, who is scheduled for an arraignment Monday.
Teixeira's ex-girlfriend told the Boston Globe he was a former security guard who had just finished a nine-month sentence for robbing two banks. In June of last year, Teixeira demanded money at a Boston bank by passing a note. Two years later, he committed the same crime, according to the Suffolk County District Attorney's Office. It was unclear whether Teixeira had an attorney who could speak on his behalf.
Evans told reporters authorities believe the victims and their killer knew each other.
"That's what we're going on, that they were targeted," Evans told Boston's CBS affiliate.
"(For) someone to come here, go up to the 11th floor, to the penthouse," Evans told WCVB, "We got to believe that somehow there was some type of knowledge of each other."
A key question in the ongoing investigation is how the killer gained access to the couple's apartment, located in a well-secured, upscale building.
"You can't get up there without a key," building resident Jack Fu told WCVB. "The elevators wouldn't even open the door for you without a key. So there's no access unless someone lets you in."
In the moments before his death, Field, the male doctor, managed to send one last text message to a friend. He pleaded for help, saying there was an armed man inside, the Boston Globe and WCVB reported.
His body, and his fiance's, would be found by a SWAT team during a protective sweep of the building after the shootout between the gunman and police.
Field was a physician at North Shore Pain Management, and his fiance, Lina Bolanos, was a pediatric anesthesiologist at Massachusetts Eye and Ear. Their patients and colleagues mourned their deaths over the weekend, remembering the doctors as outstanding members of the medical community.
"Dr. Bolanos was an outstanding pediatric anesthesiologist and a wonderful colleague in the prime of both her career and life," John Fernandez, President and CEO of Massachusetts Eye and Ear said in a statement.
Field was described by North Shore Pain Management as a "guiding vision" who was "instrumental" in the creation of the practice in 2010. Prior to his work there, Field was an anesthesiologist and pain management specialist at Beverly Hospital and Brigham and Women's Hospital. His biography said he had been an instructor at Harvard Medical School.
"His tragic and sudden passing leaves an inescapable void in all of us," a statement on the clinic's website read, calling Field "a tremendous advocate for his patients."
One of his patients, Debra Harrington, told the Boston Globe she had seen Field regularly for more than 12 years for treatment of back pain. Even after Harrington moved out of town to Marlboro, she continued to drive more than an hour to see him in Beverly, "because I didn't want to lose him," she said. "It was worth it."
"I feel like I lost a friend," said Harrington Sunday night after hearing the news of his death.
Harrington recalled one time when she was scared before undergoing an epidural procedure. Field stood by her bedside, praying with her.
"I don't know what religion he is," she said. "I said, 'Will you pray with me?' He said, 'Of course I will.' "
(Samantha Schmidt is a reporter for The Washington Post's Morning Mix team. She previously worked as a reporting fellow for the New York Times.)(Except for the headline, this story has not been edited by NDTV staff and is published from a syndicated feed.)