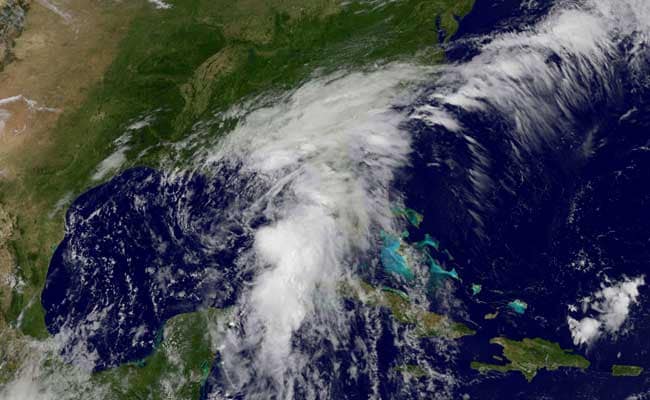 Miami:
Tropical Storm Colin churned toward Florida's northern Gulf coast Monday where officials issued a state of emergency under threat from high winds, possible tornadoes and copious rain.
Colin, which formed Sunday in the Gulf of Mexico, is expected to cross the southern state with top sustained winds of 50 miles (85 kilometers) per hour, the National Hurricane Center (NHC) said Monday.
The NHC expects the storm, now 190 miles (305 kilometers) west-northwest of Tampa, to hit Florida's northern Gulf coast region Monday evening.
The storm could dump 3-6 inches (7.6-15.2 centimeters) of rain or more in isolated areas, from northeastern Yucatan peninsula, western Cuba, northern Florida, southeastern Georgia, and coastal areas of the Carolinas through Tuesday.
The National Hurricane Center's official twitter handle posted:
Tropical Storm #Colin Intermediate advisory 7A issued. Center of colin now moving across northern florida. https://t.co/VqHn0uj6EM

— NHC Atlantic Ops (@NHC_Atlantic) June 7, 2016
The Miami-based agency warned of the potential for tornados in northern Florida and parts of southern Georgia.
And "localized coastal flooding and dangerous surf are possible along the Atlantic coast from Florida to North Carolina within the tropical storm warning area," the NHC warned.
In a news release Florida state governor Rick Scott declared a state of emergency in 34 central and northern counties, calling Colin "a severe threat" that "requires that timely precautions are taken to protect the communities, critical infrastructure and general welfare of this state."
Tampa International Airport informed about delayed flights and cancellations on twitter:
Weather update: @FlyTPA has seen 85 delays and 19 cancellations so far today. Please check with your airline for updates on your flight.

— Tampa Intl Airport (@FlyTPA) June 6, 2016
Some schools in central and northern Florida cancelled classes Monday afternoon.
The third tropical storm of the season -- which began June 1 and will extend through November 30 -- will reach the Atlantic coast Tuesday morning.
The US National Oceanic and Atmospheric Administration predicts the Atlantic will get between 10 and 16 storms this year, and between four and eight could be hurricanes.
The uptick follows a below-average 2015 season that recorded 11 tropical storms in the Atlantic, with just four hurricanes, two of them major.