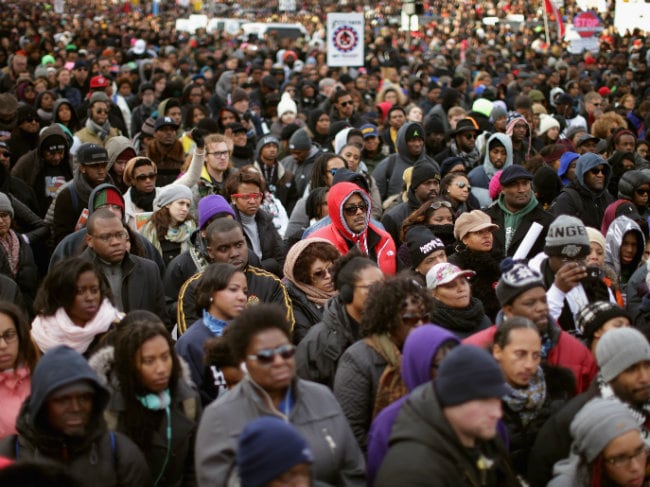 New York:
Tributes to civil rights leader Martin Luther King Jr were held around the United States on Monday as protests over the treatment of minorities by law enforcement rolled on across the country.
Observers of Martin Luther King Jr Day have this year linked the federal holiday to a rallying cry in recent months during demonstrations over police brutality: "Black lives matter."
In a pre-dawn rally in Oakland, California on Monday, about 40 people converged on the home of Mayor Libby Schaaf, calling for harsher punishment of police who use violence against civilians. They chalked outlines of bodies on the tree-lined street, played recordings of Dr King's speeches and projected an image of the slain civil rights leader with the words "Black lives matter," on the mayor's garage door.
Other protests were planned in major cities such as Dallas and New York, where the family of Eric Garner, who died after being placed in a police chokehold, was set to lay a wreath on the Brooklyn street where two uniformed officers were ambushed in December by a gunman claiming to avenge Garner's death.
Decisions by grand juries not to indict officers in the deaths of Garner and Michael Brown, an unarmed black man shot dead by a white police officer in Ferguson, Missouri, touched off months of protests across the country.
The sentiment resounded even at traditional events honoring Dr King that were under way elsewhere, including a commemoration at the Ebenezer Baptist Church in Atlanta, where Dr King once preached.
"We all need to remember him this day because we still don't have complete freedom," said Kelly Pongee, 50, of Jonesboro, Georgia, who was among hundreds of people who waited for hours to attend the service.
"Look at what they're doing to the voting rights. Look at Ferguson and those other places. Black people and poor people are still treated differently," Ms Pongee said.
Fellow churchgoer Arthur Williams, 60, of Atlanta, said Dr King was a guiding light in the ongoing efforts toward equality for minorities in the United States.
"The struggle hasn't stopped," he said. "Even with a black president in the White House, people of my hue are still the recipients of injustices."
Actor David Oyelowo, who portrays Dr King in the new movie "Selma," about the 1965 civil rights march from Selma to Montgomery, Alabama, was a featured speaker at the church event, which was held a day before King's children head to court in a legal fight over King's Nobel Peace Prize medal and Bible.
Across the country in northern California, tickets sold out for the final run on Monday of the Freedom Train, the last of the more than two dozen official train services launched 30 years ago by Coretta Scott King in honor of her husband, according to the Dr. Martin Luther King, Jr Association of Santa Clara Valley.
© Thomson Reuters 2015