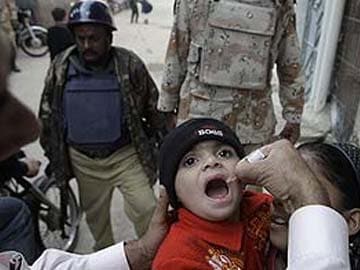 Peshawar:
Twelve people were killed and 11 injured when three roadside bombs targeting a polio vaccination team in Pakistan's restive northwest exploded on Saturday, officials said, in the latest attack on efforts to combat the crippling disease.
Militant strikes and threats of violence have badly hampered campaigns to stamp out polio in Pakistan, one of only three countries where the disease remains endemic.
Eleven paramilitary troops and one child died after the bombs detonated in the Lashora area of Jamroud Tehsil in Khyber tribal district, 30 kilometres (18 miles) southwest of the city of Peshawar, senior administration official Jahangir Khan told AFP.
The troops were protecting a convoy of health workers who were on their way to administer anti-polio drops to children as part of a three-day campaign against polio that started Friday, he said.
"A convoy of three vehicles was taking polio workers to administer the drops and the bombs exploded after the first vehicle that was carrying polio workers crossed the spot," Khan said.
He added that two vehicles belonging to the medical team were also damaged in the explosions.
Samim Jan, chief of the government-run hospital in Jamroud, confirmed the causalities.
"Twelve dead bodies and three injured were brought here, one of the injured is in critical condition," he told AFP.
Jan also said that eight of the injured have been shifted to Hayatabad Medical Complex in Peshawar.
Rehman Khan, a senior health official in Khyber tribal district, said the polio campaign has been temporarily suspended in the Jamroud area.
"We will resume administering of polio drops when the security situation is better," he told AFP.
Nobody has claimed responsibility for the attack so far.
Militant groups see vaccination campaigns as a cover for espionage, and there are also long-running rumours about polio drops causing infertility.
More than 40 people, including health workers and police guarding the teams which administer polio drops to children, have been killed in Pakistan since December 2012.
According to the World Health Organization (WHO), Pakistan recorded 91 cases of polio last year, up from 58 in 2012. Victims are left dead, paralysed or with withered limbs.
Pakistan's failure to defeat polio stands in stark contrast to its neighbour and great rival India, which recently celebrated the eradication of polio three years after its last case.
The WHO has warned that Peshawar, the main city of the northwest, is the world's "largest reservoir" of polio.
Afghanistan and Nigeria are the other countries where the disease persists.
Last week gunmen kidnapped a six-member polio vaccination team in southwest Pakistan. They were released two days later after the intervention of local tribal elders.
Masked gunmen kidnapped another six-member polio vaccination team southwest of Peshawar earlier last month. Their whereabouts are currently unknown.