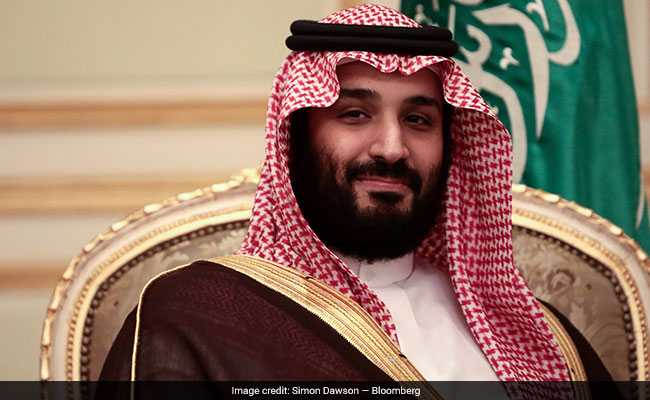 Visitors to Saudi Arabia could be forgiven for thinking the country just got a dynamic young new king. Images of him holding babies, drinking coffee with soldiers or meeting the world's most powerful rulers are all over television. On National Day last month, a giant picture of him was projected onto a Riyadh skyscraper.
Crown Prince Mohammed bin Salman, 32, has emerged as the unrivaled leader of the kingdom, now better placed to steer it through a transition no nation in history has managed to pull off: converting a major economy reliant on petrodollars into one that can survive in a post-oil 21st century.
The grand remake involves investing in new industries and creating jobs for the young Saudi population. It will all be underpinned by the sale of a stake in oil giant Aramco, which is now facing possible delay, and the creation of the world's biggest sovereign wealth fund.
But almost two years since the start of the reform drive, officials are grappling with crucial questions of how to save money and speed up social change without crippling the economy and clashing with one of the world's most conservative religious establishments. Before the government declared it would lift the long-standing Saudi ban on female drivers last month, security services rounded up independent clerics and other critical figures.
"This is a huge challenge for the country, and it has great implications for the world," Goldman Sachs Inc. Chief Executive Officer Lloyd Blankfein said at the Bloomberg Global Business Forum in New York in September. While there should be urgency, there's also a case for caution so the change needed for "stability in the long run doesn't produce instability in the short run," he said.
Failure to find the right answers risks leaving the kingdom in limbo: an absolute monarchy with diminishing resources to fund an unsustainable version of state capitalism. Saudis will get more restless and the economy, already ground to a halt, could get worse. Finance Minister Mohammed Al-Jadaan told Bloomberg last week that cuts to energy subsidies may be more gradual and the government might take longer to balance its budget, softening the impact on society.
Interviews and conversations with more than two dozen investors, analysts, executives, diplomats and government advisers in Saudi Arabia and abroad show businesses are still reeling from government spending cuts following the collapse in the oil price. Some regard the war in Yemen and the showdown with neighboring Qatar as costly sideshows.
"All of the regional problems-Qatar, Yemen, Syria, Iraq-all are a distraction," Turki Al Rasheed, a Saudi businessman, said at his sprawling home in an upscale Riyadh neighborhood as he leafed through notes on the kingdom's continued dependency on oil. Failing to achieve sustainable development is "the real threat," he said.
Al Rasheed hasn't given up hope that the plan, called Vision 2030, could work. Yet he can't help but remember past attempts that ended in failure. Among the most recent was "The Future Vision for the Saudi Economy: 2020" from about 15 years ago. "We had 400 workshops," he recalled.
The latest attempt at an overhaul was triggered by a sharp drop in oil revenue in 2014 and prices have halved since then. To avoid what the prince and his advisers saw as a catastrophic rundown on savings, they canceled projects deemed unnecessary, cut costly subsidies, and halted payments to contractors.
While austerity was seen as necessary to reduce a ballooning budget deficit, the impact on the economy was unmistakable: non-oil growth stagnated, consumer spending dropped and unemployment increased among the 20 million Saudis, three-quarters of whom are under 40.
The traditional Saudi social contract of using government largess to mollify a population under strict control was undermined. The royal family, meanwhile, has shown few signs it's willing to share the burden. On a visit to Russia this month, King Salman brought 1,500 people, a golden escalator, his own carpets and booked out two luxury Moscow hotels, according to people familiar with the details.
At Helmi Natto's company, sales started dropping rapidly three years ago, he said. The Saudi entrepreneur won awards for starting a successful fashion eyewear business at the age of 26 and even hosted his own television show.
"We're bleeding," Natto, who supports the Vision 2030, said in an interview in the Red Sea city of Jeddah, Saudi Arabia's commercial hub. The slowdown in the economy has turned him from "a celebrity rock star" into feeling like a "peasant who knows nothing," he said.
In Riyadh, Thaer al-Oteibi, 36, owner of three coffee shops and two restaurants, is struggling to save his company. Sales have tumbled 35 percent, he said, despite offering free desserts with every meal. "We'd like the government to help us," he said. "But I have no idea how."
Several businessmen complained in private that the move to halt payments has undermined business and investor confidence in Saudi Arabia. Others said that while Vision 2030 was necessary, it was rushed and reliant too much on quick fixes instead of gradual change. Quietly, some Saudis have dismissed the entire plan as an ill-fated project overly reliant on foreign consultants with little knowledge of the kingdom's social and political context.
Official data show non-oil gross domestic product, the engine of job creation, barely expanded in the first two quarters this year. The construction industry, squeezed by public spending cuts, has contracted for six quarters in a row since the start of 2016. And for all the talk of diversifying revenue, the narrowing of this year's budget deficit so far has been driven by higher income from oil exports.
If history is anything to go by, the non-oil Saudi economy could be staring at years of stagnation. The rise in non-oil GDP struggled to keep up with population growth during the 1980s and 1990s.
Unlike the past, however, the possibility of an oil price rescue appears to be slim, so Prince Mohammed needs businesses to expand and take on more Saudi workers away from the bloated public sector, said Emily Hawthorne, Middle East and North Africa analyst at Texas-based advisory firm Stratfor. "It's such a critical moment for them that they have to make something work for the private sector."
Saudi authorities also told the IMF they plan to introduce a support program to help selected industries adjust to higher energy and water prices. And there's the Public Investment Fund, the sovereign wealth fund that will spearhead a drive to invest in industries from manufacturing to entertainment to mining and defense.
In a televised interview in May, Prince Mohammed said the PIF will spend at least half of the money from Aramco's initial public offering on domestic investments. How much money that raises and when is in question, with the Saudis considering delaying the international portion of the sale until at least 2019, people familiar with the situation said last week.
The PIF said on Oct. 9 it would set aside $1.1 billion to support small- and medium-size enterprises. It's also announced a string of domestic mega projects, such as a $2.7 billion company to invest in local entertainment-a plan that is seen both as a way to open up society and retain some of the money spent on trips by Saudis to Dubai and elsewhere.
On National Day, scores of Saudi men and women danced in the streets of Riyadh to pulsating lights and a DJ blasting electronic music-until recently an unimaginable scene in a city where restaurants either separate "single men" from mixed-gender groups or don't allow women inside at all.
When King Salman visited Russia, part of the program was a rare screening of three Saudi films, including winner of Best Film at the Dubai International Film Festival.
For Ayman Jamal, a 45-year-old filmmaker and former banker, Vision 2030 is a "golden era" for the nascent movie industry. "The vision has created opportunities, new models and sectors but it has also created challenges for the old schoolers, either in their business model or large margins," he said.
That sort of optimism shows how after initial resistance to the prince's ideas, Vision 2030 was "getting more and more believers," said Yasir Al-Rumayyan, the investment fund's managing director and a key member of Prince Mohammed's inner policy-making circle. The plan includes 543 initiatives and about 376 key performance indicators, he said.
Others point to the fact that the government appears willing to learn from mistakes instead of papering over them. Ali Alireza, the managing director of Haji Husein Alireza & Co. Ltd., which sells vehicles from dump trucks to Aston Martin cars, said there have been meetings between businessmen and government officials to "formulate a proper plan."
"What the private sector has seen is that the government doesn't know everything, that some decisions that were made have had to be retracted," he said.
In April, King Salman restored bonuses and allowances for state employees seven months after a decision to cut the public-sector wage bill. The measure had hurt consumer spending and exacerbated the pain in the economy.
The government at the same time is trying to push Saudis toward private-sector jobs. More industries are being restricted to citizens and a fee on expatriates and their dependents went into effect in July, making it costlier for companies to hire foreigners.
Mohammed, 40, a sub-contractor, said having failed to find Saudis to do welding and other manual jobs, he faked contracts, paying a couple about 1,500 riyals a month while they stay at home so he can meet his quota.
Natto, the Jeddah-based businessman, said he shut four of his stores and has learned to live on a budget. Eating out has become a treat rather than routine, and so are expensive hair treatments, spas and massages for his wife. A planned one-month trip to Disney this summer was replaced by one week in Egypt.
"We had a good ride," Natto said over breakfast. "For the first time I feel the government is not your daddy, it's not your parent, it's not supposed to breastfeed you. It should help you and encourage, but it should not give you money."
It's the kind of belief that Prince Mohammed wants more Saudis to share. But like other changes he's driving, it's one that will take time. "We're trying to implement solutions in a much tighter time frame than is possible," Alireza said. "That causes all kinds of disruptions, all kinds of problems."