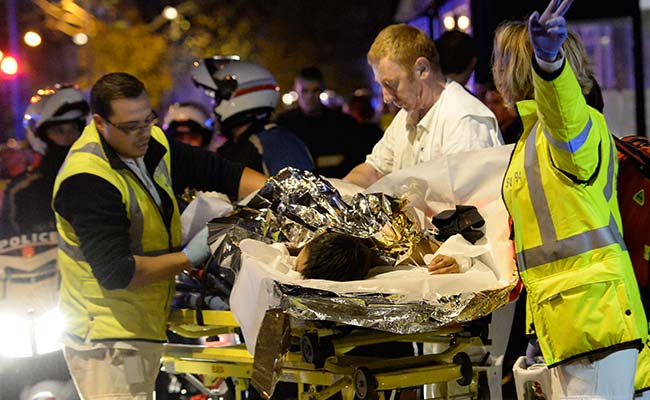 The Bataclan theater in Paris was crammed with more than 1,000 people who had come to see a sold-out show by the American rock band Eagles of Death Metal.

Gunmen apparently burst into the crowd and started firing indiscriminately, killing at least 100 people. At least two attackers were reported killed by security forces.

The incident was one of several seemingly coordinated attacks around the city Friday evening.

"It looked like a battlefield, there was blood everywhere, there were bodies everywhere," one survivor told the Guardian after being freed from the Bataclan. "Everyone scrabbled to the ground. . . . At first we kept quiet. I don't know how long we stayed like that, it seemed like an eternity."

The Bataclan, located in the 11th arrondissement in eastern Paris, is a famous venue near an area known for its night life. It dates to the 19th century, when it used to stage vaudeville "spectacles," and has played host over the years to luminaries such as Edith Piaf, Nick Cave and Lou Reed. It went through a series of incarnations as a cinema and is now a multipurpose concert hall. The theater's colorful facade was done in the exotic "chinoiserie" popular at the time of its construction and once boasted a pagoda rooftop.

French President François Hollande called the carnage in the theater and elsewhere an assault "of unprecedented proportions." He then went to the Bataclan to survey the scene.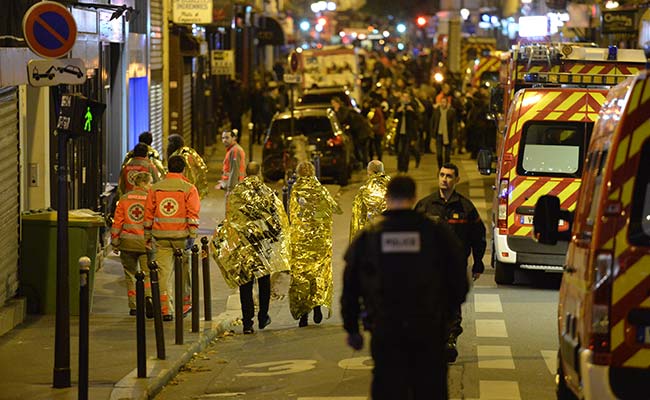 According to reports, Hollande declared there that France was "going to lead a war," presumably against Islamist militants. He said his country's response would be "ruthless."

Relatives of members in Eagles of Death Metal who spoke to The Washington Post said the band escaped.


Mary Lou Dorio, the mother of Julian Dorio, the band's drummer, told The Post that her son was safe. She said the band members managed to flee the concert hall when the attack began but that the fate of several crew members remains unknown.
"It was awful," she said. Her son initially went to a local police station, where he was able to call his wife. He had left his phone on stage. Earlier in the day, Dorio posted a far happier photo from his visit to the French capital.
Dorio's wife, Emily, said she spoke to her husband only briefly.
"We are just holding our breath and saying prayers for everyone," she said. "He called to say that he loved me and he was safe.
Everyone on stage was able to get off."