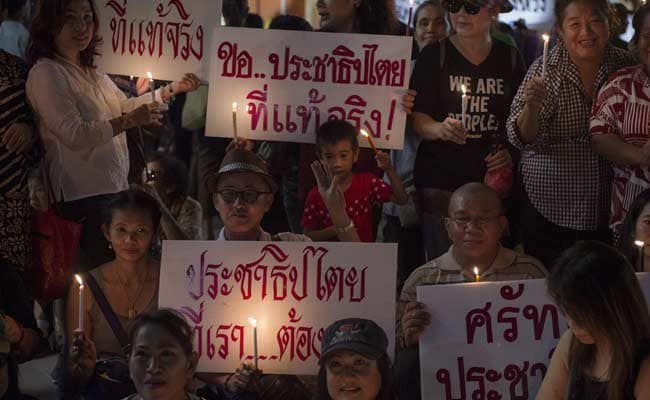 Bangkok:
Around 200 anti-coup activists today peacefully marked the anniversary of a deadly military crackdown on students in Bangkok, defying the ruling junta's ban on political gatherings.
The rally led by Resistant Citizen and the New Democracy Movement groups formed in opposition to the generals who staged a coup last year remembered an October 14, 1973 student protest crushed by the then military regime.
Activists gathered at a memorial for that crackdown before walking to the capital's Democracy Monument in the historic quarter, where some lit candles as night fell, according to an AFP journalist at the scene.
Thailand has seen 19 failed or successful coups since it abandoned an absolute monarchy in 1932.
The latest putsch saw the army seize power from Yingluck Shinawatra's elected government in May 2014, ending months of often violent street protests.
Civil liberties have been dramatically curbed in the kingdom since the takeover with a ban on political gatherings and increasing censorship of the media.
But protesters gathered today in defiance of this rule with another pro-democracy rally in September drawing around 200 protesters.