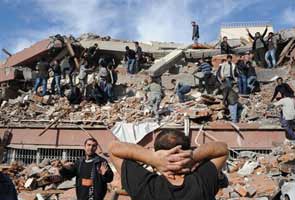 Ercis, Turkey:
Snow blanketed quake-hit eastern Turkey, while emergency crews found a teenager alive in the rubble more than 100 hours after the disaster even as the death toll climbed to 550.
Aydin Palak, 18, was pulled out of the wreckage in town of Ercis yesterday, which took the full brunt of the quake, media reports said.
Television footage showed emergency workers carrying him to an ambulance over their shoulders on a stretcher.
Palak's rescue came after rescuers saved a 19-year-old earlier yesterday, although prospects of finding more people alive were fading fast, and some rescue teams have started to leave the region, the Anatolia news agency said.
Late yesterday, the emergency situations management reported that 550 people had died after the quake, some 15 more than reported earlier, and 2,300 people were injured. A total of 186 people had been pulled alive from the wreckage, officials said.
After the government acknowledged failings in the initial rescue efforts, help from abroad was beginning to arrive, including an aid plane from Israel and Armenia. And Saudi Arabia pledged to donate $50 million in aid to the quake victims, the kingdom's official SPA news agency reported.
But in a sign of the disillusionment with the help they had received so far, some families who had been staying in tents began returning to their homes despite warnings that they were still at risk of collapse from aftershocks.
Many families have been forced to sleep in overcrowded tents or even out in the open around fires as the temperatures dropped to below freezing, while some locals complained that aid was not being distributed fairly.
A tent city has arisen around the government-built apartment blocks near Ercis, although the buildings survived the earthquake with minor damage.
A 41-year-old taxi driver, Mujdat Yilmaz, whose house collapsed, said he had not been able to get hold of a tent since Sunday.
"I've been waiting in the queue at several spots since the quake occurred but I couldn't get any," he said, while waiting in the line in Ercis.
Red Cresecent head Ahmet Lutfi Aker told NTV news channel that 27,500 tents had been brought in to Van.
A separate 5.4 magnitude quake yesterday morning struck the southeastern town of Yuksekova, near the Iraqi border, over 200 kilometres (120 miles) southeast of Van, although no damage was reported and experts said it involved a different faultline.