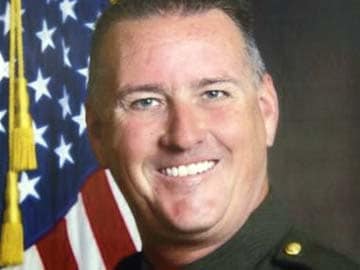 Sacramento:
A man suspected of killing two deputies during a shooting rampage in California was deported twice to Mexico and had a drug conviction, federal authorities said on Saturday.
The suspected shooter told Sacramento County Sheriff's investigators that he was 34-year-old Marcelo Marquez of Salt Lake City. However, his fingerprints match the biometric records of a Luis Enrique Monroy-Bracamonte in a federal database, US Immigration and Customs Enforcement spokeswoman Virginia Kice said.
Monroy-Bracamonte was first removed from the country in 1997 after being convicted in Arizona for possession of narcotics for sale. Monroy-Bracamonte was arrested and repatriated to Mexico a second time in 2001, Kice said.
"The fingerprints were the basis for our request for an immigration detainer," she said. The detainer requests that local authorities transfer him to federal custody after his case is adjudicated so ICE can purse his deportation, Kice said.
The suspect was being held without bail on suspicion of two counts of murder, two counts of attempted murder and two counts of carjacking.
His wife, 38-year-old Janelle Marquez Monroy, was also in custody on suspicion of attempted murder and carjacking in connection with the attack on Friday that left two deputies dead and two other victims were wounded.
The suspects have talked to investigators, Placer County Sheriff Ed Bonner said, but what sparked the shootings remained unclear.
It was also unclear what brought the heavily armed suspects from Utah to California, Bonner said. There were no indications they had been sought by authorities.
No attorneys were listed for either suspect in jail records.