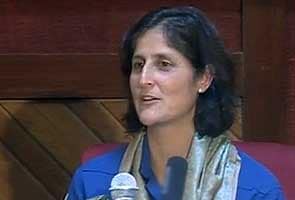 Houston:
An unmanned commercial supply ship, carrying equipment and sweet treats like ice cream successfully linked up on Wednesday with the International Space Station manned by a team of astronauts led by Indian-American Sunita Williams.
Astronauts captured the unmanned Dragon Spacecraft using a robotic arm after an apparently flawless approach by the cargo-laden space capsule, which was built by the private spaceflight company SpaceX.
It is the first of 12 resupply flights SpaceX will fly for NASA under a US $ 1.6 billion deal.
This privately-built robotic space capsule arrived at the ISS early today (October 10) to make the first-ever commercial cargo delivery to the orbiting lab under a billion-dollar deal with NASA.
The unmanned Dragon, built by California-based SpaceX, is bringing supplies to the space station.
It was launched atop a Falcon 9 rocket on Sunday.
It's the second visit by a Dragon capsule to the orbiting lab. The first was a test flight last spring.
It will also return twice as much cargo as it took up, including a stockpile of blood and urine samples from astronauts.