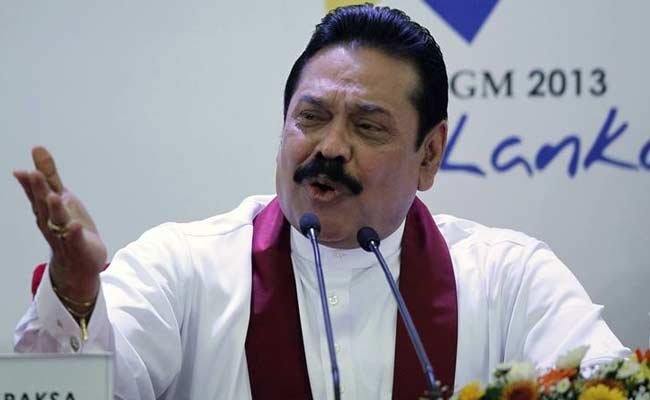 Colombo:
On a day of high political drama when the ruling coalition of Sri Lankan President Mahinda Rajapaksa suffered serious defections, the election commission today set January 8, 2015 as the date for a snap presidential election.
The election, which will see Rajapaksa seek a record third term, will take place exactly a month after the close of nominations on December 8, Chief Election Commissioner Mahinda Deshapriya said in an official government statement.
Rajapaksa has called elections two years ahead of schedule.
The Sri Lankan president was delivered a shock as his own party's general secretary Maithripala Sirisena announced his candidature as Rajapaksa's main challenger from the united opposition.
Sirisena said following the military victory against the LTTE in 2009 the Rajapaksa government ventured in a wrong direction.
<divid='ndtvrelcontent'></div>

"One family took control of the entire government", he charged. "The country is heading towards a dictatorship."
"The entire economy and every aspect of society is controlled by one family," Sirisena said referring to Rajapaksa's brothers, including the speaker of parliament Chamal, and Gotabaya, a retired officer of the Sri Lankan Army, and current Secretary to Ministry of Defence.
"Corruption is rampant, there is no rule of law," he said. Sirisena's defection is the biggest political setback for Rajapaksa, who enjoys popularity among Sinhalese majority for leading the Sri Lankan forces to victory after a nearly three-decade war against the Tamil rebels. Sirisena, the health minister was joined by Fisheries
Minister Rajitha Senaratne, Education Services Minister Duminda Dissanayake and Buddhist Order Deputy Minister MKADS Gunawardena. Rajapaksa promptly sacked all of them from their ministerial positions.
The joint opposition action was triggered by the quitting from the government of the JHU or the Heritage Party. They demanded Rajapaksa implement democratic reforms ahead of the snap poll.
Sirisena, the joint opposition challenger, said he would work to a strict 100-day programme to implement democratic reform if elected president.