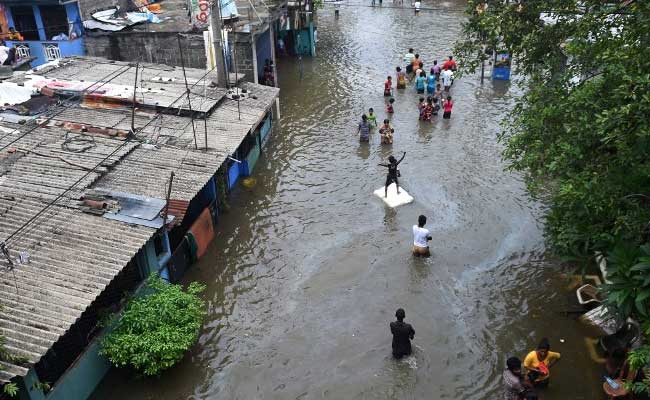 Highlights
Landslides after heavy rains buried two villages in up to 50 feet of mud
Fresh downpours hampered relief efforts
Large parts of the capital Colombo were evacuated overnight
Colombo, Sri Lanka:
Sri Lankans clambered onto rubber dinghies and makeshift rafts Friday to flee their flooded capital Colombo as fresh downpours elsewhere hampered relief efforts.
The heaviest rains in a quarter of a century have pounded the island since last weekend, sparking huge landslides that have buried victims in up to 50 feet (15 metres) of mud.
Officials have urged those living in affected areas to leave immediately, with more than 60 people known to have died so far and fears that number could yet spike with many more reported missing.
Large parts of Colombo were evacuated overnight in an operation led by the military, involving boats and helicopters.
The national Disaster Management Centre said that around 200,000 people had been moved from the low-lying capital while 400,000 people have been forced to flee to state-run relief camps.
The worst-hit areas were in Colombo's northeastern suburbs along the Kelani river, which began bursting its banks on Thursday evening.
Residents in the Kolonnawa district of the capital built jury-rigged rafts using plastic barrels to ferry marooned residents to high ground while the navy used rubber dinghies to help others to safety.
Some people appeared reluctant to move despite promises from the office of Prime Minister Ranil Wickremesinghe that the army would prevent looting.
The Lion Brewery, which has the local licence to produce Carlsburg, said its factory in an industrial area on the edge of Colombo was under water.
Thousands of empty gas cylinders were also washed away by the floods, images in Sri Lankan media showed.
It was raining in Colombo on Friday morning, with heavier downpours to the north of the capital that officials said would further swell the Kelani.
Three people have been killed in flood-related incidents in Colombo but the national toll since the weekend now stands at 63.
The district of Kegalle, about 100 kilometres (60 miles) northeast of Colombo, has been worst-hit, with the toll from two separate landslides rising to 34 after troops pulled another body from the mud overnight.
A police officer in the area said that 144 people, including 37 children, had been reported missing since the landslides on Tuesday evening.
"We can't definitely say if all these missing people were actually in their homes at the time of the disaster," said the officer, who asked not to be named as he was not authorised to speak to the media.
The officer said that there was no realistic hope of finding any survivors in landslides that buried two villages in up to 50 feet of mud.
"This is turning into a recovery operation," the officer said.
There was more heavy rain in Kegalle overnight and reports of fresh mudslides, although it was not known if anyone was killed.
The meteorological department has said the heavy rains have been caused by a depression in the Bay of Bengal, ahead of the arrival of the southwest monsoon.