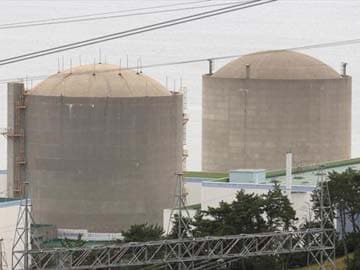 Seoul:
A "safety-related action" automatically shut down one of its 23 nuclear reactors on Thursday, South Korea's nuclear operator said, bringing the tally of those closed to six and hiking chances of possible power blackouts this winter.
Asia's fourth largest economy faces severe power shortages again this winter due to cuts in nuclear power use after a nuclear corruption scandal that started in late 2012.
"We are now looking into the cause of the shutdown and it is not yet clear when the reactor will restart," said a spokesman at operator Korea Hydro & Nuclear Power.
Operation of the 587-megawatt Kori No. 1 reactor, over 300 km southeast of Seoul, was suspended early on Thursday morning.
The reactor, which started operation in 1978, had recently returned from nearly 180 days of scheduled maintenance through October 5, according to KHNP's website.
The unit's license to operate was extended another 10 years in end-2007, another KHNP spokesman noted.
South Korea has been striving to curb power demand ahead of winter amid the cutbacks in nuclear power, which provides about a third of the nation's electricity.
Industry data shows South Korea's peak demand will mark a record high or more than 81,000 MW this winter, about 5,000 MW lower than total supply capacity.
Six nuclear reactors are now offline, including three shut because of control cables supplied with fake safety certificates, according to the KHNP website.
A fourth is awaiting an extension of its license after its 30-year life span expired in November of last year; a fifth is shut for scheduled maintenance through end-December.
The South Korean cabinet had been set to discuss winter power supply measures on Thursday, but the meeting was delayed up to mid-December to give officials more time to draw up the plan, spokesmen in the prime minister's office said.
So far 100 people have been indicted in South Korea's nuclear safety scandals, while the government has come under pressure to rethink its reliance on nuclear power.
To curb electricity demand, the government raised electricity tariffs earlier this month.
An international nuclear safety evaluation body, which completed a five-month review of the country's nuclear reactors, said earlier this month that the safety of the reactors "should be improved significantly," although it called for no immediate actions.
KHNP is fully owned by state-run Korea Electric Power Corp.
© Thomson Reuters 2013