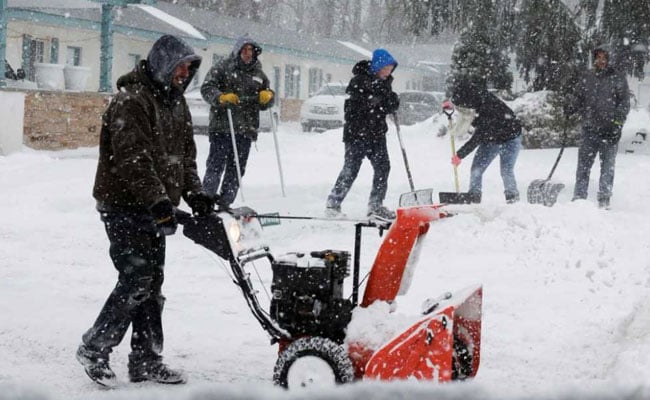 Austin, Texas:
A winter storm that caused at least four deaths in the U.S. South on Wednesday brought record low temperatures to parts of the region, where it coated roads with ice, snapped power lines and prompted schools to close.
Frigid temperatures and snow were also forecast for the Mid-Atlantic region and much of New England on Wednesday. The National Weather Service issued winter weather advisories and storm warnings for northern Georgia into Virginia and from Massachusetts to Maine, areas that are home to more than 30 million people.
In Austin Texas, a vehicle plunged more than 30 feet (9 meters) off a frozen overpass late on Tuesday, killing a man in his 40s, Austin-Travis County Emergency Medical Service said on its Twitter feed. An 82-year-old woman who suffered from dementia was found dead on Wednesday behind her Houston-area home, likely the victim of exposure to the cold, the Harris County Sheriff's Office said.
In Georgia, two people were fatally struck by a car that slid on an ice patch near Macon, local media said.
At Atlanta's Hartsfield-Jackson International Airport, the nation's busiest with a typical volume of 2,700 arrivals and departures a day, about 350 flights were cancelled as of Wednesday afternoon, according to tracking service Flightaware.com.
The sheriff's office in Oconee County, Georgia, east of Atlanta, tried humour to keep people off icy roads.
"I know you need cigarettes, beer and wine to get you through having your kids at home. Can you just do without for a day? Stay home," the office said on its Facebook page.
Wednesday's storm is not the first to bring a blast of frosty weather to the Deep South this winter. Earlier this month, Tallahassee on Florida's Panhandle and Savannah on the Georgia coast are among the cities that experienced significant snowfalls. Record low temperatures have occurred in many places in the eastern half of the country.
The governors of Georgia, North Carolina and Louisiana declared states of emergency because of severe winter weather conditions, which caused multiple car accidents during rush hour.
Rain in central North Carolina will eventually turn into snow and leave up to 8 inches (20 cm) of powder over the central part of the state, NWS meteorologist Dan Petersen said.
North Carolina Governor Roy Cooper warned at a news briefing that cold temperatures Wednesday night would make travel conditions even more hazardous.
"The snow is pretty but don't be fooled," Cooper said.
Melissa Howard, manager at the Oak City Cafe in Raleigh, North Carolina, said the restaurant would open on Thursday, despite a state of emergency issued in the area.
"Our plan is to stay in the hotel to serve the customers in the morning," she said, referring to the Days Inn next door.
In Houston, the nation's fourth most populous city, most freeways were closed on Wednesday morning after icing over, the city's Office of Emergency Management said.
More than 10,000 homes and businesses in Texas and Louisiana were without power as of Wednesday afternoon after ice-coated limbs broke off trees and cut power lines, utilities data showed. More than 12,000 in South Carolina were without power.
(Reporting by Gina Cherelus in New York and Jon Herskovitz in Austin, Texas; Editing by David Gregorio and Steve Orlofsky)
© Thomson Reuters 2018
(This story has not been edited by NDTV staff and is auto-generated from a syndicated feed.)