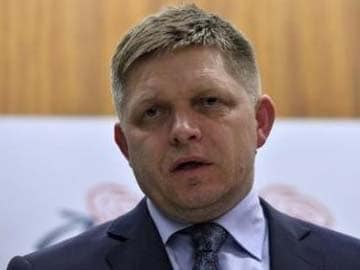 Brussels:
Slovakia's Prime Minister Robert Fico slammed European Union sanctions on Russia as "meaningless and counterproductive" and threatened to veto additional measures, highlighting the internal divide within the EU over its tough stance on Russia.
"I consider sanctions meaningless and counterproductive," Mr Fico told reporters early on Sunday after meeting fellow EU leaders in Brussels.
"Until we know the impact of the already imposed sanctions, it makes no sense to impose new ones."
EU leaders asked the European Commission, the EU executive, to draw up proposals for new sanctions on Russia over its action in Ukraine within a week, though they did not say when they could be implemented.
But Mr Fico, whose country has previously been outspoken in its opposition to sanctions on Russia on which it depends for its natural gas supplies, said he would fight sanctions that would harm Slovakia's economic growth.
"Should there be proposals," he said, "I reserve a right to veto sanctions harming national interests of Slovakia."
© Thomson Reuters 2014
Get Breaking news, live coverage, and Latest News from India and around the world on NDTV.com. Catch all the Live TV action on NDTV 24x7 and NDTV India. Like us on Facebook or follow us on Twitter and Instagram for latest news and live news updates.