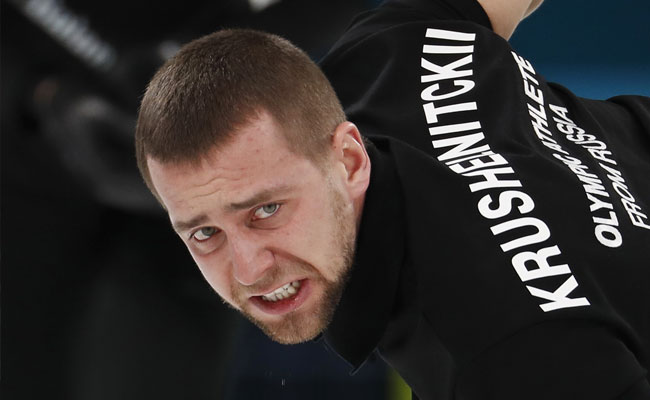 Gangneung, South Korea:
The Olympic curling fraternity awoke Monday to news of a Pyeongchang doping scandal wondering more why a curler would cheat rather than fearful of an uneven playing field.
Russia's Alexander Krushelnitsky, a mixed doubles bronze medallist, was the curler at the centre of allegations he had taken the banned drug meldonium the same substance that saw Russian tennis star Maria Sharapova suspended.
The revelation sparked disbelief from Denmark women's skip Madeleine DuPont as she pondered what advantages doping might bring in such a precision-based event.
"I was pretty shocked. 'How can this be?'" DuPont asked.
"I'm sure most people would think, 'What do they need doping for? What's the benefit?' like I'm thinking."
The stone-sliding crowd isn't known for bulking up on muscle power, with meldonium banned for its ability to increase blood flow and thereby exercise capacity.
"I'm not even sure what you use drugs for in curling," DuPont said. "Strength and such? It's not really up my alley."
DuPont said she does not see dope cheats when she competes against the Russian women and is confident of a clean playing field.
"I know the Russian girls really well," she said. "They are good and kind and a benefit to the reputation of the sport."
Switzerland women's skip Silvana Tirinzoni leaped to defend the fitness level of curlers, saying even the most laid-back of Winter Olympic sports requires above-average levels of strength.
"It's not like you don't need any muscles," Tirinzoni said. "We have to be fit. Everyone is working out five times a week and going to the gym. It can help."
But she was as stunned as everyone else to learn about the possible doping case.
"I'm sure surprised," she said. "Things like that shouldn't happen in curing, or any other sports."
United States women's skip Nina Roth backed curling as a sport requiring power as well.
"You need strength but you have to do it the right way," she said. "Any sort of doping isn't good."
Sweden's Niklas Edin was equally stunned that curling had been dragged into the mire of doping.
"We have stayed away from those kind of topics for a long time," he said.
"I definitely didn't think we were going to find a positive test in this crew here... if it is a positive doping test in curling, it is just sad."
(Except for the headline, this story has not been edited by NDTV staff and is published from a syndicated feed.)